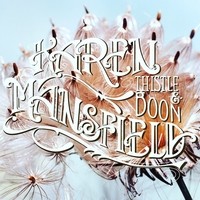 Karen Mansfield sings with a dreamy tenderness on the lilting gorgeous color of "Thistle + Boon". Full of heart and soul, Karen Mansfield brings together elements of country, chamber pop, with a rock-oriented style to it. Best of all are Karen Mansfield's thoughtful lyricism delivered with the utmost of ease. Everything is executed with such thought and care. Perfectly balanced, there is a smoky timeless sort of sound, one that gracefully unfurls with such patience. Atmospherics work wonders for the entirely of the album explores carefully crafted narratives.
Nicely setting the mood for the album is the majestic classic rock tempos of "Lover For The Ride". From the nimble percussion to her bluesy vocals, the track serves as one of the highlights of the album. Things are stripped down to the essentials on the evocative "The West Side" while the piece transforms into a stream of consciousness style. Spaciousness works wonders on the yearning "There Was A Girl". Layer upon layer of sound comes together on the kaleidoscopic, psychedelic folk of "Gone". Peppy upbeat tempos define the summery celebration of "Me And Leslie". Driving rhythms propel the powerful "Aint Half Bad". Rollicking with a wild spirit "My New Favorite Thing" careens wildly. Jagged guitar riffs frame the powerful "Dont Do". Perfectly bringing the album to a close the reflective "You Make Me Happy" ends thing with a message of hope.
With "Thistle + Boon" Karen Mansfield opts for a beguiling journey, one that explores relationships and the yearning that often defines them.
By Kate Price