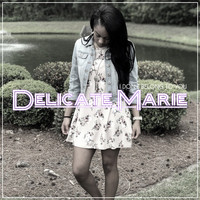 Delicate Maria releases her first single which shows her competence and strength as an artist. Listen and Enjoy!
Sha'Diamond Marie Hamilton aka Delicate Marie is an Atlanta, Georgia, based singer who has been displaying her talents from a young age of ten. Though quite young she has a creative insight which she has skillfully used to weave many mesmerizing melodious creations.
Encouraged by her mother and supported by her step-father, Marie had started recognizing her skills when she had the first stroke the keys on her keyboard. Technically sound and knowledgeable, she has used every ounce of her talent to craft her first single, 'I Don't Belong To You,' which has already hit the masses with its recently released in 2018.
Marie frames a unique style of music by blending the tones of R&B, R&B Soul, and Pop which has the quality to enrich the audience with its melodious and rhythmic tunes. This new single released under the production unit of Lucky Calhoun Productions and CFO of Southern Stisles Records, Robert "Lucky" Calhoun, is all set to inspire all young musicians who have immersed their heart and soul into music.
Audio: https://delicatemarie.bandcamp.com/track/i-dont-belong-to-you
The single 'I Don't Belong to You' is a soulful track that brings out the pain of a loving heart beautifully. Though Marie is young, her voice has the strength to evoke even the dead hearts to life. A strong and provoking lyrical section glides the song through the intriguing ambiance that she creates so artistically.
The song begins with a short but impressive prelude which opens the door to an irresistible sensation and feel of the song. Marie voices the words in a subtle tone in a slow and calm musical harmony which is sure to touch the hearts of her audience.
'I think it's time I tell you before it goes too far' makes a melodious beginning to the song which eventually blends into the mood of love and breakup. The instrumental association is kept soft and elegant with more emphasis on the vocal modulation and lyrics. The rhythmic keyboard notes further intensify the dramatic feel of the song with lyrics. Contradicting her young age, Delicate Marie has shown amazing talent and craftsmanship in formulating and singing this single which is sure to take her much closer to immediate stardom.
'I am not you girl and you are not my man' brings the charm of a brilliant chorus that has the power to intrigue any listener towards the positivity of the track. The theme of the song is realistic and the lyrics are written in a simple yet touching way which is sure to allure any person is or has been in a loving intimate relationship. The song portrays Marie's extraordinary confidence and strength while she works well with her high pitched vocal chords.
'I Don't Belong to You,' is a complete package of creativity. Inspiring lyrics paired with beautiful musical score upgrades the song to a completely new level. Marie has truly immersed her heart and passion while she crafted the tune for this song. With this newly released single, Marie is sure to attract a huge fan following that would take her a step closer to achieving the acclamation she always desired.
https://www.facebook.com/OfficialDelicateMarie/
-Jessica Parker