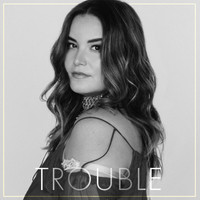 Reina Mora goes for a passionate, fiery sound with the soulful "Trouble". Full of joy, the way the song unfurls gives it a majestic air. Multifaceted and with a wide kaleidoscopic variety of color everything comes together into a fantastic stream of sound. By far the true heart comes from the poetic lyrics that float by with the utmost of grace. A great emphasis on space is utilized over the course of the piece while Reina Mora ties together western, rock, pop, and a hint of jazz brought into the fray. Keeping everything outright playful means that the song constantly surprises with its incredible twists and turns.
Stream: https://soundcloud.com/reinamoramusic/02-trouble
Things start off with thoughtful guitar gestures conjuring up a cinematic edge to the entire proceedings. Buildups occur with tremendous volume, as the entire song soars alongside Reina Mora's vocals. Her voice conveys a wild, untamed spirit that informs the entirety of the piece. Instrumentally rich, the guitars and piano combine into a unified whole. Best of all the rhythm further drives the entire piece forward, with small flourishes adding to the entirety of the work. Lyrics have a seductive, sultry quality to them. Over the course of the track a narrative begins to take shape, one that threatens to careen out of control. For the final stretch of the piece everything lets loose as the song further highlights her commanding vocals.
http://www.reinamoramusic.com/
With "Trouble" Reina Mora goes for a style that demands attention, with a force of nature allure to it.