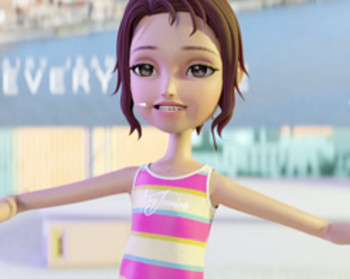 Airy Jeanine is the wildly prolific, sizzling hot sensation that pop music has been waiting for. Over the years, we've watched this artist grow from the youthful empowerment of "Mamma's Girl" to the sentimental maturity of "Do You". She's now at the helm of her most masterful creation of pop gold with a brilliantly reimagined animated lyric video for her newest singe, "Everywhere."
As an Airy Jeanine fan, you may be saying to yourself, "But I've seen the 'Everywhere' music video, it was my summer anthem!", but what you haven't seen is the all-new 3D animatied video. This animated short was produced by Paris Richard Hall Jr., a 3D animator living in the greater NYC area. Hall has worked with the likes of Nick Jr., Mercedes Benz, and 20th Century Fox, just to name a few, and his work with Airy Jeanine is no exception to his excellence.
In the video, a surreal world is created, where a singer performs upon a gorgeous stage, in the most beautiful cityscape, without a cloud in the sky. The opening shot is a billboard which eludes to the official video, something that is sure to create buzz among fans. One of the most interesting aspects of the video is the character. The character is modeled after the central character in Airy Jeanine's recently published children's book, This Is Me, which is available for purchase at Amazon, Barnes & Nobles, and all other major book retailers. In her own words, "This Is Me is a story that encourages children not to be influenced by their peers to conform, and to be comfortable in their own skin." All in all, this video is candy for the eyes and ears, and is sure to tap into an even larger demographic than before.