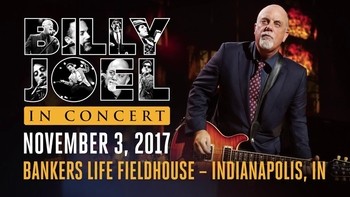 This was a dream come true for my lovely guest/fiancée, Heather Davis, and I who are HUGE fans of Billy Joel.  We couldn't believe we were seeing the Piano Man live as it was all surreal and just an incredible event.  I have to give a BIG thanks and major shout-out to Kimmy Adamson with Live Nation who made this whole night possible by giving me the best surprise on November 3, 2017.  I never thought I'd be seeing Billy Joel live but there we were with phenomenal seats on the floor watching one of the greatest singers and songwriters of all time.  Mark this one off my bucket list of concert acts to see and Heather Davis said it best when she sincerely conveyed to me that "this is one of the best nights of my life".  I concur with this sentiment as magic was in the air coming directly from Billy Joel as he tickled the ivories.
What an amazing setlist with many classics and surprises as Billy Joel did not disappoint the thousands in attendance. One aspect of the show that I really enjoyed and it definitely got the crowd fired up was what Mr. Joel referred to as a "fielder's choice".  Using fun baseball terminology, Billy Joel gave the audience the choice to choose between two songs.  Simply put, the song that got the loudest applause is the one he would play which I thought was a very interactive approach and allowed the fans to be a part of the whole, live experience.  Spanning decades of excellence and an impressive catalog of songs, Joel played numbers from many of his top-selling albums like: 'The Stranger', '52nd Street', 'Glass Houses', 'The Nylon Curtain', 'Storm Front', 'River of Dreams', 'Turnstiles', 'An Innocent Man' and 'Streetlife Serenade'.  The Piano Man started things up right with a moving performance of "Miami 2017 (Seen the Lights Go Out on Broadway)" followed by "My Life" that always puts me in a good mood.  The next song brought me back to a time a friend and I sang "Matter of Trust" on stage at a bar during karaoke night.  What a fond & foggy memory going back to my college days where I was all about that "Matter of Trust" baby!  The doo-wop single "The Longest Time" had pitch-perfect a cappella singing where Billy Joel & company were giving the Indianapolis audience those "Good Vibrations" and sweet sensations.  Mr. Joel fueled the audience with a rousing performance of "Movin' Out (Anthony's Song)" that has some of the coolest and catchiest lines around:
"Anthony works in the grocery store
Savin' his pennies for someday
Mama Leone left a note on the door
She said, Sonny, move out to the country
Workin' too hard can give you
A heart attack (ack)
You oughta know by now (oughta know)
Who needs a house out in Hackensack
Is that what you get with your money".
I then got in a "New York State of Mind" bringing me back to my roots and days in NY as images of famous landmarks flashed across the screen like the Statue of Liberty.  "Allentown" is a fine song performed flawlessly by Billy Joel and still relevant as ever touching on the hard working class of America.  A nice surprise was heard next as Billy Joel and his terrific backup band did a superb version of "A Day in the Life" by The Beatles.  Beatles music is very dear to me so loved the fact that this powerful song was covered.  I don't mind the kind of "Pressure" Billy Joel's pushin' because this song has such a forceful energy and catchy tone that is just infectious from beginning to end.  What I heard next was another pleasant surprise because it's a song that sticks with me ever since I saw the video for the first time on my parent's "Billy Joel The Essential Video Collection" DVD.  I instantly gravitated toward the loose and playful tone and style with Billy Joel on the phone in socks calling it "Sometimes a Fantasy".  He said that one brought back some memories and I couldn't agree more with some of my own and that is the real thing and that's all I need.  One of my guest's favorites, "The River of Dreams", was flowing from the stage and never sounded better!  #20 on the long setlist is none other than "Piano Man" that is a true anthem and I can't help but sing along anytime I hear this song.  "Piano Man" was Billy Joel's first hit single back in 1973 and it's still pure Gold today.
And you want to talk Encore; Billy Joel went out with a bang playing these monster hits: "We Didn't Start the Fire", "Uptown Girl", "It's Still Rock and Roll To Me", "Big Shot", "Only the Good Die Young" and "You May Be Right".  What an exciting way to end the night with high-energy rockers that are prized songs to me and songs that just bring me joy.  Billy Joel is one of the best-selling artists of all time selling more than 150 million records worldwide and I can see why.  His music runs deep and holds a special place in my heart because I strongly connect with the whole package.  "It's All Rock and Roll To Me" and I like it!
Heather and I didn't sit down once during the entire duration of the concert as it was never a thought in our heads.  We were clapping and singing along to many of our all-time favorites and that's all that was on our minds.  Saturday, November 3rd, 2017 at Bankers Life Fieldhouse in Indianapolis, IN was a memorable night and one that we won't soon forget.  Billy's Joel's voice was spot on and his personality was also shining through cracking jokes in between sets.   This was the best concert ever and Billy Joel proved why he is the one and only "Piano Man".  I'd like to leave you with lyrics from that song that started it all for Billy Joel because it pretty much sums up the overall feeling and the night for me:
"It's a pretty good crowd for a Saturday
And the manager gives me a smile
'Cause he knows that it's me they've been comin' to see
To forget about life for a while
And the piano, it sounds like a carnival
And the microphone smells like a beer…Sing us a song you're the piano man
Sing us a song tonight
Well we're all in the mood for a melody
And you got us feeling alright".
Thank you "Piano Man".
By Jimmy Rae (jrae2@att.net)