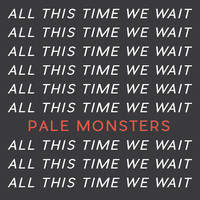 Pale Monsters go for a wild, unpredictable and colorful psychedelic sound on "All This Time We Wait". Vocals have a sound reminiscent of Television's highly stylized delivery, as they possess a truly commanding presence. Elements of electro, post-punk, and indie rock come into a satisfying stream of consciousness whole. Absolutely teeming with life, the song virtually bursts at the seams. Best of all are the poetic lyrics that opt for an interesting sort of narrative, one that is obscured ever so slight.
Stream: https://palemonsters.bandcamp.com/track/all-this-time-we-wait
A burst of synthesizer and drums introduces the piece. Quite quickly the song settles into a fantastic sort of groove. By choosing such a tact Pale Monsters emphasizes their playful spirit. Upon pulling back for a brief moment the guitars gain a taut quality to them. The groove transforms into something reflective for a moment before evolving into a fantastic rush of color. Over the course of the piece Pale Monsters incorporates a huge number of flourishes, with little tactile sounds off in the horizon further adding to the song's lived-in spirit. For the song barely stops, it continues moving at such giddy speeds. For the final stretch of the track the synthesizers become truly unhinged, almost recalling some of MGMT's optimistic careening presence before it drifts off into the air.
"All This Time We Wait" shows off the undeniable chops of Pale Monsters in creating a joyous off-kilter sort of pop, one whose melodies and rhythms feel so inviting.