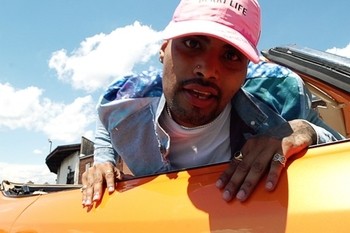 Coming at you with a viral video and a word-wide lifestyle/merch brand taking the world by storm, the one and only Saïnt Pierreis back with a hot new single entitled, "Acid". The Bronx native coined the term "Berri Life" through his last few efforts to represent his clique. Now that the world is glued to their screens with "Berri" on the brain, the question remains: What will he drop next? The answer: "Acid".
But before we get to the new single, we need to touch upon the song that blew Saïnt Pierre & the Berri Crew into the hip-hop stratosphere, his remix of "I'm In Love With The Toto". With almost a half a million views, this seemingly unknown artist at the time became the trending topic of 2014. The Berri Life movement began to take on a whole new meaning as a lifestyle brand once the song hit, and Pierre has been fearlessly leading the pack to greatness ever since, planting the Berri flag everywhere they go.
"Throw a hundred out in traffic" – the first line of "Acid" sets the tone of the song perfectly. The music video shows the "Berri" crew running with a rags-to-riches lifestyle at the pace they want. The whole squad is partying at the highest capacity with hot girls, expensive cars, and bottles on bottles. The contrast here is that the party is taking place out on the streets of their hometown, rather than at some expensive hotel, showing that an artist like Saïnt Pierre never forgets where he came from. With the whole neighborhood behind him, Pierre delivers the song with an honest confidence, showing the form he's been working for his entire life.