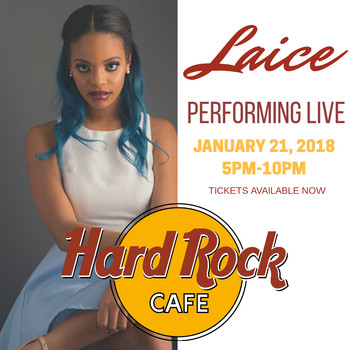 RME presents Anthem Boston Laice. Half artist showcase half networking event Anthem gives performers, producers, entrepreneurs and creators of all levels an outlet to connect with their local community and expand their creative network while engaging with industry professionals in person. Also, "Independence" Laice's new single, will be available January 20th at midnight on all digital stores.
While most teens spend their time collecting Instagram followers, few have the passion and drive it takes to follow their dreams. But Laice isn't most teens.
Born and raised in Colorado, the young artist and songwriter delivers R&B-tinged-Pop music with power and nuance well beyond her years. From a young age, Laice set out to follow the path of her strong female role models in the music world. At only 16 years old, it seems she is well on her way, drawing her inspiration from vocal powerhouses like Beyoncé and Sia and crafting songs with soaring hooks that would fit Rihanna. Her forthcoming debut is just a glimmer of what the future has in store for this young talent.
Link to Event in Boston: https://tix-social.com/event/anthem-boston-laice
SUN, JAN 21, 2018 @ 5 – 10 pm EST
Hard Rock Café Boston
22-24 Clinton Street
Boston, MA 02109
On her debut self titled EP "Laice", produced by Brian Nightingale (Sean Kingston, Master P, Lil Romeo) , Laice's motivation to create music is clear. Songs like "Monster", which features YouTube sensation Olivia Cella, and "Candyland" showcase not only her strong vocal range and melodic sensibility, but also the range of personal strength she imbues into her songs in the hopes of positively influencing young women across the world. Her empowering lyrics are well complemented by Nightingale's production– electronic dance beats, synth stabs, and sleek harmonies characterize the 5 songs on the EP.