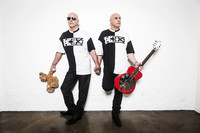 Right Said Fred are probably one of the hardest acts to forget of the last two decades, with multiple hits to back them, including the 1991 smash "I'm Too Sexy" and the 1992 hit "Deeply Dippy," to name among their well-known catalog. Coming from the UK they have that British factor of which they make no secret but also comes with a world class appeal to this day. Those who've been keeping up with them already know they've never lost a step over the years in quality vs quantity of output, with several album releases to keep them going. After their 2017 album – Exactly, they're back with "Let's Face The Music And Dance."
The group has achieved multi-platinum status and has also won two Ivor Novello Awards for the aforementioned-hits. This is an amazing show of transformation where they take something old and make it brand new again. The great new version of this classic number was recorded in London for the album – Puttin´ On The Ritz – A Tribute To Fred Astaire, produced by Rainer C. Regatschnig, Justin Fidèle and Wolfgang Lohr. This track was originally introduced by Astaire and Ginger Rogers in the movie Follow The Fleet, and written in 1963 by Irving Berlin. This is more of a celebration than an update or tribute.
URL: https://www.rightsaidfred.com//home?hs=1
With the current trends finding their way into the mainstream, tribute albums could be the next big thing, even though as far back as 1995 there have been some great efforts. But this isn't the usual approach to it, as "Let's Face The Music And Dance" comes with Right Said Fred written all over it, with their successful formula doing the ultimate business instead of a copycat-cover feel like most tributes tend to accomplish nothing more than. They make it all theirs without even questioning where it obviously came from. This is a magic only veterans can usually pull off without question, as they do.
They transform what is a classic, into a modern day contemporary song that fits right into the woodwork. And dancing is the proverbial ticket, so it loses nothing and gains everything in the process of paying homage to a great song and dance man in Fred Astaire himself. They manage to keep their dance-oriented act in-tact, with a certain maturity that helps it and the duo equally shine through together. The superior production seamlessly mixes the old classic with modern textures, beats and a groove that never stops till the abrupt ending, which only makes you want to put it on loop and leave it there.
The track does everything to whet the appetite for more Fred Astaire covers done only like Right Said Fred can do, and that's a big step toward the release. Singles are important these days because they keep the audience bated for the full-length product, and they that model with the best of them. It's a grand effort that will surprise anyone, but also remind anyone of both Right Said Fred and Fred Astaire's relevance meet right in the middle where they belong. It's that good, and after hearing it you can expect no less from the album. It goes to show they've matured without losing their massive spirit.
FACEBOOK: https://www.facebook.com/RightSaidFred/
Mike Tabor