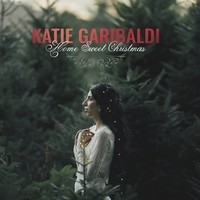 It's not often these days that you come across someone whose sound is just as genuine and sweet as the person inside. But that is Katie Garibaldi to the core as she sings from deep within and has a BIG heart to boot. For example, when I received the album from Katie it was signed and included a generous card complete with candy cane and cool Christmas ornament. This care package was such a kind gesture but that's Katie Garibaldi in a nutshell and perfect sentiment for her latest release 'Home Sweet Christmas'.
I'd like to start by offering you heartfelt words from Katie Garibaldi herself that will help you understand the true meaning behind 'Home Sweet Christmas': "Christmastime has always been my favorite time of the year. It's that warm and fuzzy time that makes you reflect on the year and spend extra care to think about family and people that are important to you. I have so many great memories of being a kid at Christmas and all the special traditions my family and I have, and still have! But the biggest thing that sticks out is the music. My parents would always have old holiday records on like The Beach Boys' and Elvis' Christmas albums when we decorated the house and tree. I've always wanted to write my own Christmas songs because I think there's magic in them. I was just waiting for the inspiration to hit me, and it finally did! I'm so proud of these songs and hope that people will enjoy them throughout the year and not just during the holidays. Since Christmas reminds me of coming home, I named the album Home Sweet Christmas, and hope that it gives listeners a sense of being home, whether that's an actual place or just being around the ones you love."
All songs on this album are written by Katie G except "Silent Night" and worth noting that she also produced all of the tracks as well. This is a masterful collection and already a Christmas classic in my book. Along with Katie's fine singing & guitar playing, there is also an array of talented musicians on the 12-track recording. "Star in the East" is a gem of a song offering delicate vocals & melodies and a one-of-a-kind Claymation music video. 
Spice up your senses and say Hallelujah! on "Jesus Touched My Heart" that you can listen to right now on Skope Radio (https://skopemag.com/)! This faithful number gives off flavorful praise to the Lord that will have you clapping and saying Amen! Next up is track four, "Unhappy Holiday", that is refreshing and a nice change of pace for Garibaldi. "Unhappy Holiday" is a slowed-down country Christmas song that's buzzing with excitement and you can check out the spirited music video right here:
Flowing along, "The Times I Love the Most (California Christmas)", is a fun little tune about a not so White but still Golden Christmas on the West Coast. Track six, "Wonderful Mother Mary", is so tender and uplifting and beautifully sung by the incomparable Katie Garibaldi. The listener will sense pure joy on "Love On Christmas Day" that tastes like a hot cup of coffee in the morning that warms you all up. Riding along, "Holy Spirit in My Heart" has a galloping beat that steadily moves along with plenty of guiding light. Song nine, "Safe and Warm (Lullaby for Jesus)", has an angelic voice singing softly to Jesus Christ. This song is so personal, powerful & emotional with such sincerity pouring out of Katie's soul. Put your mind at ease with Sweet Dreams on "Tomorrow is Christmas Morning" where you'll feel rejuvenated with the gift of song & melody. Track 11, "Our Home Awaits Us", displays shining vocals from Garibaldi that are soaring high to the heavens. Katie gives a brilliant and lovely rendition of "Silent Night" to end 'Home Sweet Christmas' that has such class and finesse. I literally closed my eyes on this song and just embraced it with Katie delivering an impactful performance that truly moved me.
So even with Christmas over you can still cherish this wonderful album and as Katie says: "keep the joyful spirit of the holidays with you each and every day!" I think that's an excellent idea as 'Home Sweet Christmas' can be played year round! Katie Garibaldi did a superb job on this record and should be very proud of each and every song recorded here. I'll leave you with another quote from Garibaldi that is the real basis of it all: "Thank you God for the infinite blessings in my life. I sing for You."
Have a Happy & Blessed New Year with 'Home Sweet Christmas' at your side!
By Jimmy Rae + (jrae2@att.net)