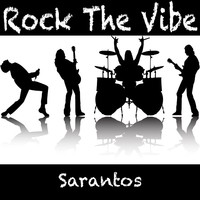 Sarantos goes for an expansive anthem with the potent "Rock The Vibe". Pop anchors the entire piece while Sarantos incorporates dub, EDM, and even a hint of electro into the proceedings. A playful quality infuses itself into the entirety of the track, thanks to the powerful lyricism of Sarantos. Over the course of the track a journey of sorts unfurls one that feels downright majestic in its expansive quality. Employing a great deal of patience Sarantos opts for a painterly quality as layer upon layer of sound is applied. Best of all the languid and laid-back bass helps to drive the piece along, giving it a muscular quality.
Things come into focus quite quickly for the piece starts off almost immediately. Upon the introduction of his powerful, cool, and confident voice Sarantos gets the party started. Little bits of funk enter into the fray while Sarantos keeps things quite spacious, at least initially. Gradually the song becomes ever more potent as Sarantos makes sure that every single note glistens into the air. Melodically rich, Sarantos allows the many synthesizer sweeps to simply build up until they burst forth in a gorgeous bloom of color. By the latter half of the piece a sense of optimism takes hold. Celebrating a sense of community Sarantos finds hope with the togetherness that a party can bring.
https://itunes.apple.com/us/album/rock-the-vibe-single/1329738136
With "Rock The Vibe" Sarantos creates a late-night vibe, one that accurately captures the infinite joys that partying deep into the night can bring.