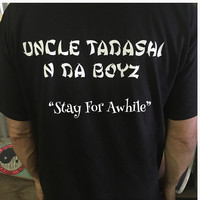 Uncle Tadashi & the Boyz goes for a leisurely, pastoral quality with the soothing "Stay For Awhile". Vocals display a great deal of tenderness. Opting for a timeless quality the light and airy arrangements work wonders. Recalling a 70s-soft rock sort of style, the lyrics focus on a life lived to the absolute fullest. Quite rich with its intricate ornate detail the track positively shines with optimism. Instrumentally rich Uncle Tadashi & the Boyz allow a great deal of sounds to flow into the mix, from the gingerly percussion to the breezy horns that weave their way into the sonic tapestry.
Nimble guitar work begins the piece. From there everything else flows with a sense of purpose. Her voice has such a reassuring, warm quality to it. Lyrics focus upon the desire to improve one's own life, to find inner strength. Inviting to its very core, everything simply shines with a great deal of hope. Bursts of color flow into the overall spirit of the entire thing, as the chorus further emphasizes her clear-eyed gaze. Melodic flourishes further give everything a charming quality, as the saxophone has just the right touch, proving to be impressively expressive. The togetherness that rests at the very heart of the track gives it a soulful feeling. By the final stretch everything simply comes together in a glorious hue.
"Stay For Awhile" shows off the undeniable chops of Uncle Tadashi & the Boyz, choosing to explore the importance of togetherness and community.