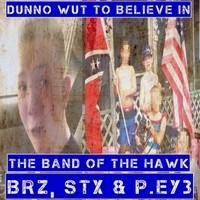 The Band of the Hawk offers a thoughtful take on the contentious political climate of the United States with "Dunno Wut To Believe In". Flows intermingle with incredible ease as the song unfurls with a naturalistic quality. Small gestures mean a great deal as the Band of the Hawk ensures that patience becomes an important ally. Stylistically a number of genres are neatly woven into the mix from glowing electronica to little hints of rock and funk brought in for good measure adding to the song's potency.
Audio Link: http://bandofthehawk.com/tracks/a/dunno_wut_to_believe_in
Not a moment is wasted as the Band of the Hawk sets the groove. Highly articulate the song embarks on a grand journey, one that explores the concept of beliefs, of how people reach their own worldviews. Allowing for the track to build up in intensity feels outright gorgeous, as the glistening melodies linger. Tension comes to nicely power the piece forward, giving it an almost suite-like approach. Physical to its very core volume helps to give the song an even more potent quality. Within the song the flows magnify the way that everything feels so fleeting lately, of how the transitory nature of culture means nothing can truly be built. The Band of the Hawk lets the raps flow washing over the listener, as the track employs a questioning attitude towards the ways of the world.
With "Dunno Wut To Believe In" the Band of the Hawk delves into the American zeitgeist with a lyrical poetry.