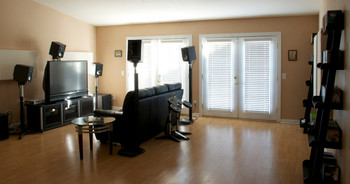 What may have been a luxury reserved for the rich and famous is certainly quite attainable today. Every home theatre owner thinks that they can do better. A bigger TV screen, better speakers, a more comfortable sofa and above all the best possible quality of picture and sound. In reality, this is possible but it can be expensive. Not to mention that sometimes it may require redecorating and additional time.
Of course, a home theatre is more than the technology. There are also some other details you should include in your efforts to indulge your hobby. Here are some tricks to help with that, and some will even save you a bit of money.
1.   Research and plan
The great thing about the modern age is that you can always find users' experiences online. This is especially the case when it comes to technological advancements. Devices are improved so fast that sometimes it's very hard to keep up. That's where research jumps in to help you find the best possible equipment for your budget.
Research will take you to expert blogs, used equipment testimonials and customer reviews, all of which are important to create a plan. Sometimes two pieces of equipment are not compatible or need some extra cables to work. This is the sort of information you will find through research.
2.   Don't buy everything at once
It's best to buy in phases, than purchase everything at once. Some equipment is expensive and you can wait for sales and discounts. Also, you can find some used or custom-made devices at bargain prices from different sellers. Although there are many famous brands out there, there are also those high-quality manufacturers only known among the professionals.
Another thing you should take into consideration is the amount of space you have for your home theatre. That will make you put the size of devices before their quality. Or make you choose what is the most important: the sound or the picture. But in the end, it all comes down to availability and price. Those two are the most important issues for anyone who tries to create something quality on a tight budget.
3.   Try some DIY solutions
Depending on your knowledge there is a myriad of things you can do yourself. This will save you money and be a fun project. Those more prone to engineering can build their own speakers, carpenters can make their own furniture, but everyone can construct their own screen.
Custom-made screens are great solutions because they let you choose the size and fit them into any space, which is much cheaper than making room for your new screen, or finding the perfect one to fit your measures. In the end, you need some usual equipment like the drill and screwdriver for example, and enough working space to cut and mould. And soon enough, you will enjoy the screen you always dreamed about.
4.   Buy used equipment
Used equipment can be a smarter solution when it comes to speakers, but not a viable one when it comes to the picture. So if you want to spend on something new, then buy a new TV or projector, and opt for a used sound system. Many music experts will tell you a lot about the purity of the record player and how it surpasses the digitalised sound.
If you want the best sound, look for used custom-made speakers. These can be a tad expensive than you expected, but will give you much better and clearer sound than some of the new solutions. Always check older models before buying new speakers. Sometimes what's on the used goods market is several classes better than what's currently trending in the stores.
5.   Prepare the room
This may not apply to all of you out there, but if you plan to create the home theatre you always wanted, you will have to make some room. Even some renovations may be necessary to gain the required sound quality. Not all rooms are good sound conductors and some will need extra insulation to prevent you from disturbing your neighbours or other residents.
Sound proofing a room is not cheap and much depends on the materials and the walls in your home. Additionally, the windows will also have to undergo sound proofing, as will the doors. If you want to enjoy high volumes, then make sure your neighbours won't report you for disturbance to the authorities.
6.   Create an appropriate décor
If you have a state of the art home theatre, then that is the focal point all décor will evolve around. A specially designated room can be decorated with movie posters, cardboard cutout stand-ups and even levelled seats. Living rooms are a bit challenging since they serve other purposes than being home theatres.
This is where you can tone down the movie paraphernalia and concentrate on commodity. Lush sofas and cushions will create comfort. Several types of lights for different mood settings and a few tall plants can help you easily turn your living room into a cinema.
7.   Make sure it's comfortable
One of the things people care about is comfort when watching a movie or enjoying their favourite performers. That's why all the big cinemas have those comfortable and big chairs with enough room to sprawl the feet. Home theatres differ from owner to owner. Some dedicate an entire room to this entertainment, while others just use the living room.
Whatever type it may be, besides the comfortable seating set you will also need to keep the temperature in check. Quick airconditioner installation and window drapes will help with setting the mood and perfect environment at all times.
Lastly
There are movies you can tolerate with mediocre sound, like the early Charlie Chaplin works, but there is no movie that deserves low quality equipment. This is something every movie lover respects and looks to remedy whenever they can. Even those who enjoy movies and other shows just for entertainment will tell you that everything sounds and looks better in high quality conditions. So, if this seems like too much of a challenge, make a plan and take it slow. Soon enough your will be eating popcorn comfortably curled up in your sofa and feeling as though you're right there among the moving pictures.