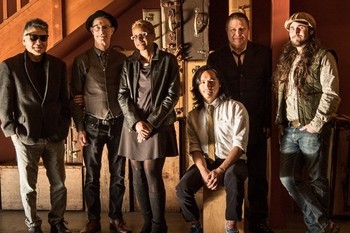 Paula Boggs is one of the most talented and distinguished musical personalities out there. Coming out of the world of academia with degrees from both The University of California Berkeley School of Law and John Hopkins University, Paula Boggs Band has established itself as a positive force of enlightenment in music. Wielding a heart of gold and speaking in the language of sweet indie melodies, the band pushes forth with their newest video for "Holocene", in their mission to empower the masses with the most valuable tool of all: Soul.
https://www.paulaboggsband.net/
After serving as an Officer in the U.S. Military, Boggs became Assistant U.S. Attorney for the Western District of Washington, a partner at the firm of Preston Gates & Ellis, Vice President at Dell Corporation, and Executive Vice President, General Council, and Secretary of the Starbucks Corporation, all before embarking on the musical journey that is the Paula Boggs Band. Having lived several lives within this one, Boggs has quite the stories to tell through music, constantly keeping her values on her sleeve and using her resources to fight for what she believes in.
In recent years, Boggs founded Boggs Media LLC. This is the official business that manages her music, speaking, and other creative business activities. Since the creation of Boggs Media LLC, Paula Boggs Band has released two full-length studio albums featuring singles, "Carnival of Miracles" and "Look Straight Ahead". Her third full-length studio album entitled Elixer – The Soulgrass Sessions is due for release on September 15th, 2017. "Holocene" is a song originally written by Justin Vernon of the band Bon Iver. The Paula Boggs Band take this already beautiful, atmospheric song and bring their homegrown Soulgrass sound to the forefront. The "Holocene" video shines light on the band's ability to grow while keeping in line with their greater mission of promoting peace.