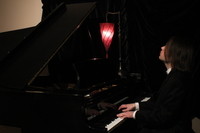 Rausch embraces an all-consuming, expansive scope on the theatrical fury of "Book II". Effortlessly blending together metal, folk, classical, and electronica into a satisfying whole, the songs burst forth with tremendous energy. Lyrics rest at the heart of it all with Rausch proving to be deft storytellers. Over the course of the album they craft dreamy poetic narratives, one that appeal on a strong emotional level. Instrumentally rich Rausch knows when to go full throttle with absolute rushes of sound along with simply hanging back, letting the vocals speak and soar to the heavens.
A series of suites emerges on the epic journey of "Drain" where guitar distortion, piano, and bombastic drums come together into a perfectly balanced piece. Patience becomes a virtue on the glistening buildup of "The End". With nods to psychedelic rock, the way Rausch build it up feels downright satisfying. Loose with an almost jazzy attitude at times "Irked" wanders around freely, letting guitar solos weave their way into the song's DNA with the utmost of care. Easily the highlight of the album comes with the elegant grace of "Slow Suite: II. Isolation". Within this track Rausch go for a surreal reflective temperament. Wild and careening "Speechless" proves to a truly maddening experience. Rausch utilize a cinematic fervor on the strangely triumphant fervor of "Swansong". Nicely bringing the entire album to a close is the mellowed-out spirit of "Time Out".
With "Book II" Rausch deliver a beautiful, stream-of-consciousness world one that feels so carefully considered.
By Jeremy Vaughn