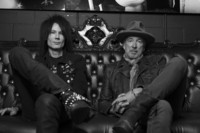 Myja crafts an instant classic on their timeless self-titled debut, a debut that possesses incredible hooks and life-affirming lyricism. Volume is an absolute must for these songs are physical with their swaggering rhythms. Rhythms have a hard-hitting quality to them with everything serving the powerful grooves. Infectious to its core, the way that Myja lets everything unfurl feels outright masterful. Utilizing a painterly precision, the way that Myja lets narratives take hold simply stuns. Nicely bringing together elements of hard rock, classic rock, with elements of pop, the pieces simply shimmer and shine. By far the true heart of it all comes from Myja's assured vocals that rise above it all.
"Hit and Run" begins the album on a high note, proving to be adept storytellers. Great levels of distortion and energetic rhythms define the angular rock of "Anniversary". A perfectly balanced buildup works wonders on the beautiful "Into Focus" with vocals opting for a sense of intimacy. With a late-night vibe comes the jagged edges of "Hangman". Quite gargantuan with a groove that simply won't quit "Just One Kiss" serves as one of the highlights of the album. Easily the highlight of the album is the laid-back early 90s-referencing rock of "Flood". Glistening with its multi-faceted sound, the piece possesses a tremendous amount of tenderness. Nicely bringing the album to a close "Mourning The Death" goes for a meditative reflective atmosphere.
https://www.facebook.com/myjamusic/
Thoughtful to its very core, Myja's self-titled debut delves into a beautiful world one that feels positively celebratory.
By Max Works