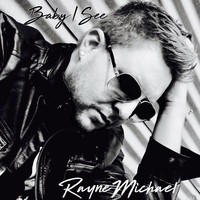 Rayne Michael sings with a tenderness and passion on the heartfelt & soulful pop of "Baby I See". With an ornate arrangement, Rayne Michael displays an uncanny knack for storytelling. Lyrics truly carry the song along, as Rayne Michael utilizes the journey to great effect. By letting the lyrics explore what a relationship is, the ups and downs, along with the uncertainty that can so often inform a life, the piece has a vivid, highly colorful quality to it. The multi-faceted, multi-layered approach works wonders as everything possesses a neon-lit, dreamy hue to it.
Not a moment is wasted as Rayne Michael dives deep into the heart of the sound. Lush piano work adds to the majestic stately aura of the track while all else unfurls. Grooves have a nimble quality to them, as they stop and start on a dime. Easily the highlight comes from Rayne Michael's powerful voice which rises above it all. Adding psychedelic elements to it gives the whole piece a surreal quality to it. Over the course of the track the best part comes from the way a narrative emerges. A sense of loss, a sense of betrayal begins to define the entirety of the piece. Rayne Michael describes exactly how a person's true nature became clear to him, the way they had previously hid it versus the way they actually are.
https://raynemichael.com – DOWNLOAD DEBUT ALBUM 'DARE TO DREAM" FREE!
"Baby I See" proudly shows off Rayne Michael's mastery of craft, creating a memorable song whose message and melody lingers.
By Silvia Roach