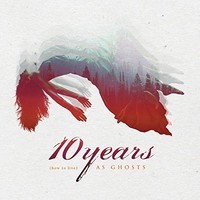 The group 10 Years consists of Brian Vodinh on guitar and background vocals, Jesse Hasek lead vocals, Kyle Mayer on drums, Matt Wantland on guitar, and Chad Huff on bass. In addition to touring as a support act to a lot of big names, this is the eighth release by the Tennessee alternative/progressive metal band.
The Messenger is basically a nice pop tune. Novacaine has a guitar intro and nice parts throughout, Mark Tremonti style. The backing vocals are also nicely mixed in giving it a Pink Floyd feel. Catacombs is well accented by the guitar work. Ghosts is a moderately paced piece, with intentionally or unintentionally a Black Sabbath nuance to it. Blood Red Sky is a slower offering starting out ballad like then picking up tempo. Phantoms is also a slower tune with a good guitar structure. Vampires is catchy with tempo changes and solid rhythm and bass/drum interaction throughout. Halos has a ballad start that is kind of reminiscent of early Blue October. Lucky You is another with a slow ballad start that picks up speed for the chorus. Insomnia rounds out the release.
The group has good command of the sound they put forth, and the vocals are nicely blended into this. Jesse has a pleasing voice and range that has edge when he wants to use it. Brian and Matt easily weave the guitar parts off each other creating a successful sound combination. You'll pick up nuances of their respective influences, which is what it's all about!
https://www.facebook.com/10yearsmusic/
By R.M. Engelman