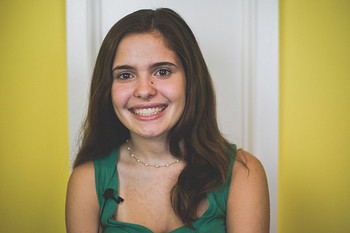 New Jersey's Eliza Arnone is a blossoming talent who has achieved in a matter of only a few short years what many aspiring musicians covet their entire lives. This singer-songwriter/pianist is only a junior in high school, but already has a full length album under her belt, two new singles on the way, and an enthusiastic, growing fan-base eager for her next move.
What's equally remarkable about Eliza is what she has overcome to reach this point in her young career. As a child she didn't speak for the first few years of her life and has worked through a learning disability to become a confident, accomplished young woman gearing up to leave the nest and soon go off to college. Not one to be defined by her struggles in life, Eliza instead sees the world as her palette, with no task or goal too difficult to pursue.
She's also smart enough to know that she's only as good as the team around her. Of course, it starts at home. With her parents and two older siblings, Brandon and Allie, to look up to and fully supporting and encouraging her vision, it has given her the confidence from the beginning to take the necessary steps in her career.
Her talents have expanded dramatically under the tutelage of vocal instructor/artist developer/co-writer Jody Joseph and co-writer/producer Nick Ryan Piescor, both of whom were pivotal players in the creation of Eliza's debut release, Red Coat. The eight song set is an impressive collection that feels as much a 90s rock radio staple as it does a contemporary pop offering. Tracks like the opener "Porcelain Doll," title track "Red Coat," and "Shadows" bring a heavy dose of driving drums, distorted guitar and fiery energy to Eliza's music. The songwriting also features a healthy dose of piano-driven tunes offering a refreshing diversity. "Cinderella" is the kind of tune that can light up a room with its musical peaks and valleys, while "Allie's Song" pulls back the dynamics even further to deliver a personal message from Eliza to the most special of friends, her sister Allie.