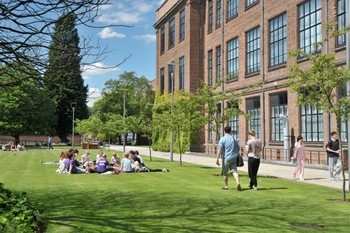 To say that Carleton University has a lot going for it would be something of an understatement. From location to teaching quality to course options to everyday student life, Carleton University really does set the bar incredibly high. Situated right next to one of the region's most stunning UNESCO World Heritage Sites, everything that happens at Carleton is an enjoyable experience.
Today, more than 125,000 students from all over the world trust Carleton University for the provision of the finest education and training opportunities in Canada. Rather than focusing on overall graduate employment, Carleton University is committed to creating a new generation of leaders, ready to change the world.
Courses and Programs
Courses are divided across a number of key faculties at Carleton University, which include the Faculty of Arts and Social Sciences, Faculty of Engineering and Design, Faculty of Graduate and Postdoctoral Affairs, Faculty of Public Affairs, Faculty of Science and The Sprott School of Business. Undergraduate and post-graduate programs alike are remarkable, both in terms of available options and the quality of the tuition and training at Carleton University.
More recently, Carleton University has expanded its collection of distance learning opportunities to include a growing contingency of online courses. Uniquely flexible and accessible, many online courses require absolutely no travel or classroom time whatsoever.
To find out more about the full range of courses on offer, head over to carleton.ca today.
Fast Facts and Info
Founded in 1942 to help service personnel returning from the Second World War, Carleton University stands on 62 acres of beautiful land just outside the city center. What's more, getting around this sprawling site is made so much easier by the 5km of underground tunnels connecting the major buildings!
The university currently has a total student population of around 30,000, of which more than 25,000 are undergraduate students. The college's student body has grown by more than 18% over the past ten years alone, Carleton University has always scored exceptionally highly in terms of student and graduate satisfaction rates. The overall graduation rate across the college as a whole is around 70%, beating the regional average of 66% with ease.
Incredibly, two years after graduating, 92.3% of Carleton graduates were employed, while 85.4% were employed after six months.
Contact Information
The full course catalogue can be accessed via the primary Carleton University website, along with the most important information on student life, perks, privileges and so on. Head over to carleton.ca for more, or get in touch with the college directly at the following address:
Carleton University
1125 Colonel By Drive
Ottawa, Ontario
K1S 5B6 Canada
613-520-2600
eCampus Ontario
If you'd like to take the legwork and the guesswork out of choosing from the best courses and colleges in the country, eCampus Ontario has you covered! Gain quick and easy access to the most important listings and course information, all brought to you under one roof via the same free online resource. Head over to ecampusontario.ca today for more information, or to sign up and get started.