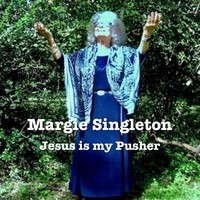 Margie Singleton's "Jesus Is My Pusher" represents the best of country, with a powerful message alongside a gritty western twang. Vocals rest front and center as all other features figure quite prominently, from the nimble guitar work to the loose drum work. By far the true heart comes from the playful lyricism. Over the course of the piece Margie Singleton expresses the joy that religion can bring, the way that it can offer a salvation of sorts that exceeds anything else. By framing the entire piece as a sort of redemption while still showing the falseness of temporary highs, Margie Singleton not only emphasizes the importance of faith but the tragedy of addiction. Throughout the piece Margie Singleton laments the reliance people place on other things, on various substances rather than getting to the root of the problem.
Not a moment is wasted for Margie Singleton settles into the groove with such ease. Featuring gorgeous guitar work the song at times veers into a near country funk, as the way the piece evolves gives it a natural grace. By letting everything possess such light, it further highlights Margie Singleton's narrative, one that chooses an ideal of faith, of belief in something awe-inspiring. Gradually the track builds up to its fantastic finale, as the vocals enter into the fray in a heaven-bound choir, one that ends everything on a satisfyingly sweet note.
http://www.margiesingletonmusic.com/
With "Jesus Is My Pusher" Margie Singleton offers up a message of hope, one that lingers on in the mind.
By Max Sincere