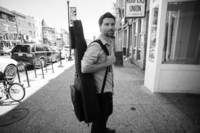 Eli Lev & The Fortunes Found incorporate funk and folk together on the intimacy of "Go Down". Possessing such heart and soul, the song evolves in an organic, highly nimble manner. Downright infectious the track has a gorgeous, colorful quality to it. By opting for such a stylish approach Eli Lev & The Fortunes Found choose an all-encompassing sound that demands volume and attention. With a commanding vocal presence Eli Lev sings with the experience of a life lived to the fullest. Instrumentally rich, every single detail is thoughtfully considered and executed with precision.
Things start off on a high note with the groove settling in quickly. Guitar work feels downright tactile as it slinks about with such ease. Vocals further emphasize the casual cool vibe of the entire rhythm. By choosing such a low-key temperament the whole piece works wonders, as the rhythm feels absolutely inviting. With the chorus, the song focuses upon the concept of being in this all together. Letting loose a little bit the piece gradually expands in scope, incorporating a wider variety of sounds into the overall mix. Bass has a flexible quality to it, as the whole song feels perfectly broken down before they build it up one more time again. Towards the finale of the song everything drifts off as if in a hazy dream.
Representing a fresh, future-facing take on Americana, Eli Lev & The Fortunes Found go for an otherworldly journey on "Go Down".
By – Brian Funer