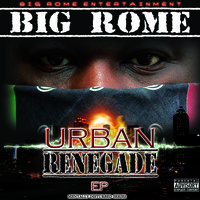 It is true that talents can be found anywhere, even under many grave circumstances. Big Rome is a living example of such a talent who has made his name in the music industry with his efficiency to create original and innovative musical melodies. His recently released EP 'Urban Renegade' is the best proof for the same.
The native of a small town in Southern Missouri, W.K.Jerome Higgs aka Big Rome had moved to Arkansas with his mother in 1985 in the hope of a better living. But with uneven circumstances, he got himself involved in street politics and landed himself in the Department Of Correction for three years. Though it was a state of humiliation for him and his family, destiny turned his misfortune into a great turning point in his life.
Apart from being a skillful musician Big Rome is also an active socialist. Living in the constraint walls of the Department Of Correction had made him realize his worth in the society and from then onwards he had taken efficient efforts to promote awareness among kids about the harmful effects of street politics and also its mere consequences.
He is a member of the Famous Poets Society where he won their annual poetry contest with his marvelous writing skills. He has also won the song of the year trophy at the prestigious International Music and Entertainment Association.
With his new EP, Big Rome has brought out the passion he bestows towards creating innovative music. Wrapped in four melodious harmonies along with a narrative intro Rome, this EP is sure to allure a lot of young music lovers.
The intro, in the beginning, is a simple narrative by Big Rome which actually summaries the basic theme for the whole EP. It is very well understood that the theme of this EP is greatly influenced by the occasional hiccups in his own life.
The first song 'I Got Issues' gives a curious start to the struggle against the societal norms of the fake attempts of trying to prove one's goodness that Big Rome had tried to depict in this EP. The strong and inspiring lyrical section enhances this song's quality which further matches with Rome's vocal quality as he lips each song with immense intensity and enthusiasm.
As the songs play successively one after another Rome establishes his position strong and firm with the progressive music of this album. 'Sick and Tired' and ' Stone Love' closes the EP in an engrossing soulful tune as Rome uses his intense baritone to leave a mark in the audience's heart. The heartfelt lyrics and powerful background musical association surely take this EP a few high notches above one's expectation. The sound quality is kept high and clear.
Big Rome has surely made his mark with his immense contribution in the field of progressive fusion music. This new EP from him is sure to touch many aggressive young hearts who would find the words pushing them to express what they had always tried to say. A brilliant by Rome for sure.
https://www.facebook.com/OfficialBigRome
– Jessica Jones