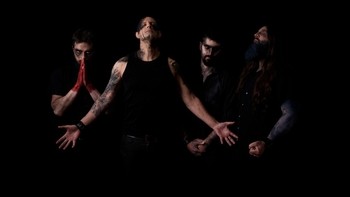 Following the release of their third album "The Ogre Inside", PORN now presents us with the video for the title track of the album. The track itself is the synopsis of the album, a sum of all it's parts, varying from slow to fast throughout its duration.
The video was shot in Los Angeles, in October of this year. The first thing of note about this video is it's length. Clocking in at just 9 minutes, it is very long compared to the standard of the genre, the norm being usually 3-4 minutes.
The video itself follows the duality pattern that was noticeable in their previous single and video "You Will Be The Death Of Me", with alternating shots of 2 people, man and woman. The man is trapped in a sort of prison cell or factory cell, a small and dark room, condemned to work on a kind of machinery, as a laborious routine. In an other cell, there is a woman, doomed to the same fate. The factory cells represent the lack of communication, and the machineries represent the routine of a relationship.
"We wanted to create a metaphoric version of a useless and doomed relationship… Like when you act like a clockwork orange (Burguess), without soul and feelings." -Deschemin