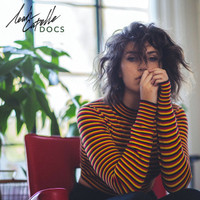 When I hit play, right away I was thinking this is one dynamo and a real firecracker with a distinct spark and flare about her. The singer/songwriter from Chicago brings you "Docs" that has got style, charm and hard-core meaning all wrapped up into one power-packed song. Leah Capelle hits you with an edgy & spunky side while also sounding sweeter than honey with her strong 'n' pleasant vocals.
"Docs" has that rockin', poppin' groove that I instantly attracted to due to the catchy hooks, melodies and steady guitar riff. I'm sensing a radio-friendly tone but this is not your ordinary Pop single by any means. Leah Capelle is a different type of artist who is far from plastic & generic but rather a refreshing voice amongst the jaded mainstream music scene. And that's why the story behind this song ties in perfect to that concept because Capelle wrote "Docs" for herself without any approval from outside parties. "Docs" is the perfect anecdote for today's superficial world where it shouldn't be about looks, fashion sense or material possessions. You can hear the sheer joy in Leah Capelle's voice because you get that feeling that this singer/songwriter is really coming into her own and finding herself. Leah is literally opening up here and I can safely say that the real Leah Capelle is out of the box and glistening like a lighted Christmas tree.
Capelle is peppy with just the right dose of attitude and a real breath of fresh air for today. Leah is comfortable in her own skin and her lively music reflects that notion. "Docs" is official and Leah Capelle is officially in charge and not looking back!
By Jimmy Rae (jrae2@att.net)