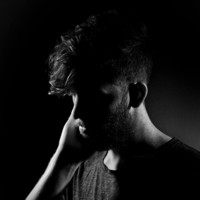 This Pale Fire – Alchemy, is the debut full-length LP by aka Corban Koschak, with producer Levi Patel working at the helm. It's an album not easy to define, with the New Zealand artist describing his voice as "closest maybe to Dan Smith with some of Thom York's falsetto brilliance brushed on." But, This Pale Fire comes with a sound all his own. The self-taught musician handles all his singing and songwriting, graphic designs and guitar playing on this stripped back, mellow work of art. The songs are all very soothing pieces, with a zen-like medicinal quality that can only the few and far between have done.
The album kicks off smoothly with "Northern Lights" and stays that way throughout on this easy listening, modern folk release. There's a lot of emotion coming from his voice without being overstated in any department on this brooding opening ballad. The soul never ceases to ooze from his voice as the track wears on with a beautiful build-up effect before delicately fading away. It's something of a wonder how you've heard this all before but for the first time as well. It says everything about his songwriting prowess, and he emotes to the power of multiple voices. This Pale Fire burns brightly from the start.
FACEBOOK: https://www.facebook.com/thispalefire/
There's tempo changes on the next track "Virago," with that being the only twist between the first two numbers, as it delivers all the same on all levels while naturally progressing from the previous cut. This is another great piece of music with Koschak balancing the melodic with the melodramatic with a masterful result. If these vocals don't captivate you, then you're missing out on what this album and artist have-to offer. By this time, you're ready for more of the same with the equally satisfying sounds of "Float On" which shuffles along nicely at a slightly kicked up pace with the guitar and vocals equally balanced.
"The Sky" is another cool track with a fluid guitar featured, as well as Koschak's voice reaching hypnotic low registers. This is a deep cut that ends abruptly, but a short statement which doesn't last long enough to sink in as a full song. It plays more like an intro to the next track, "Wolf" which is a spectacular tune with great strings and an overall killer display of studio performance art. This is where the album peaks but it's also tricky because it's so consistent throughout, that it's hard to select any favorites. They're all undeniably compelling tracks, no question about it.
The sheer sincerity of tracks like "Delicate Words" are hard to flaw, in fact nearly impossible to find a sliver of any pedestrian approach to them. You feel the pain, sorrow, and occasional light-heartedness often missing in today's folk singer-songwriters. It goes beyond the current Americana trappings by including eclectic and sometimes dark musical passages that take you further into a song. For evidence of that, just look-into "Mountains" with its blend of indoor and outdoor sound, via some effects that usually don't go together. And the soft piano playing on "Outro" is a lovely touch before it's all over. It shows how well this album was written, produced and arranged.
RELATED ARTICLE: https://www.13thfloor.co.nz/watch-this-pale-fire-perform-northern-lights-at-the-13th-floor/this-pale-fire-alchemy/
Larry Toering