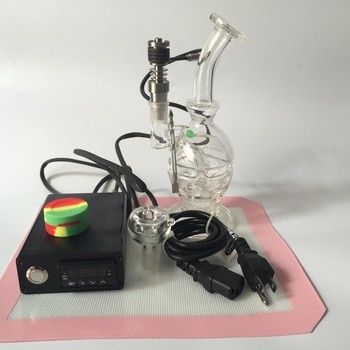 A gadget that is used to vaporize medicinal Cannabis extract is an enail. Considering the legalization of the medical marijuana, the industry is booming. Extracts are becoming very popular and the supply is going high and uses are being increased without the negative effects of carcinogens associated with smoking marijuana.
You are required to generate high heat, a temperature of 650° to 800 °Fahrenheit to vaporize the cannabis extract. The enail helps to set the exact temperature while heating the Cannabis extract.
The temperature can be controlled by the enail controller as the coil is heated to a specified temperature. An enail kit efficiently lets you enjoy vaporize cannabis extracts by maintaining the exact temperature required. Here we bring you some enail kits with their advantages and disadvantages which would help you choose the best in the market.
1) 710 e nail kit- This kit has a large number of satisfied buyers who praise its easy usability, reasonable price and high-quality technical support. This kit is designed with a pre-Programmable temperature control which heats relatively fast. It also comes with a carb cap and a Dab tool.
Pros
It has a fuzzy logic algorithm to match the accurate temperature.
Aromatic oils are prevented to burn or get overheated due to temperature control system.
It has a good aluminum quality casing
Easy up and down arrow setting for complete convenient temperature control.
Cons
At times the temperature display does not show accurate readings
2) The Pelican enail kit-  Cannabis extracts require delicate calibration the temperature set need to be reached fast and also stay at a particular level to keep the nature of the all intact. The enail complete kit offers you to keep the temperatures maintained. It quickly heats and is pretty plug and play. The newly designed coil is the sole reason for its fast heating. Another attractive feature of this kit is that you can customize the temperature setting.
Coils did easily with the nail
Pros
Its durability adds on to its good value.
It's easy to use.
You need not purchase will photo for this kit
It is portable with a carrying case and does not occupy much space when in use.
Cons
Quartz bowk crack easily.
Display function does not happen easily.
3) Professional email electronic nail temperature controller box- Top quality enail kit with the minimum maintenance is available in form of this professional enail kit. Its genuine Titanium grade 2 gives it the best casing. The temperature can be controlled through its memory and last temperature setting. The Enail Kit is compatible with 10\14\18 mm female or male connections. It is easily portable which includes a box for a sophisticated look and does not occupy much space.
Pros
Fast shipping
Good operation and instant heating
Male\ female connections can be used in different pieces
Temperature can be adjusted easily
Good customer service
Cons
Does not work with all types of Universal names
Heating is not consistent
4) The honey habit professional enail kit- Aromatherapy can be enjoyed to the utmost with a well-designed enail kit. The honey habit electronic nail temperature controller. A feature-rich kit is one that can meet your needs. It has been designed especially for essential oil aromatherapy. The temperatures can be set up quickly and easily. It has been made of grade 2 Titanium and the temperature can be digitally customized. Programmed temperature settings make it easy to heat coils without burning or overheating them. It has 2 silicon containers given free at the time of purchase and includes male and female reversible nail and a developer heater coil.
Pros
The extra long coils ensure proper heating and prevent burnouts too.
Fuzzy Logic a logarithm for accurate temperature settings.
Industrial grade aluminum enclosure makes it lightweight
Free carb cab and containers are provided with the package.
5) The Pelican New Enail Kit- This is a User-friendly and long lasting enail kits are especially for aromatherapy and cannabis extract users. The Pelican Case e-Nail Complete Kit is a product to consider if you want a ready-to-use Enail kit. It controls temperature and on/off switches is easy to operate. The Enail has a Titanium attachment nail easily fits into 10/14/18mm male and female connectors. The kit also comes with bonus silicone jars that are of easy to clean nonstick variety. The package also includes carb cap made of grade 2 titanium. With the convenient temperature setting for heating, you can save money on the fuel. The manufacturer recommends seasoning the nail, as it helps remove residue in the nail, improving the function of the device
Pros
The coil made of advanced thermal engineering design
Quartz Insert prevent contact with titanium nail while heating
High quality and durable product
Affordable and portable kit
Cons
Quartz insert gets easily damaged
The display stopped working prematurely