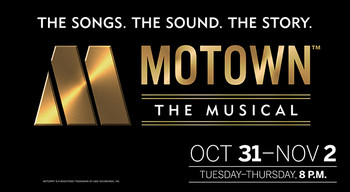 Who says Halloween is strictly about trick-or-treating, ghoulish costumes and horror movies?  How about a show centered around some of the greatest American, popular music ever created thrown into the bag as well?  If you said yes, then Motown The Musical is the perfect candy that will satisfy your sweet, musical tooth.  Opening night for this outstanding production was on October 31, 2017 at Indiana University Auditorium in Bloomington, Indiana with two shows to follow.  I believe there was even a full moon that night, so you're in store for a scary, good time!
I grew up listening to many of the Motown legends like: The Jackson 5, Marvin Gaye, The Temptations, Four Tops, Stevie Wonder, Smokey Robinson & The Miracles, Lionel Richie, Commodores and many more.  Thanks in big part to my parents playing this great music all the time at home, I was instantly hooked to the classic, Motown sound and still am to this day.  So, it's safe to say I was heavily anticipating this show and so was my guest/fiancée, Heather Davis, who is a huge Motown fan as well.  One of Heather's favorite singers of all time is actually Smokey Robinson who we had the pleasure and honor of meeting after a show and what an incredible performance and unforgettable experience that was.  Speaking of Smokey Robinson, he is one of the key players of the Motown label and one of the stars of the show.  Played by Justin Reynolds, the actor embodied Smokey's passion and spirit perfectly.  Here are a list of songs written by the incomparable Smokey Robinson heard throughout Motown The Musical: "Cruisin'", "Get Ready" (The Temptations), "My Girl" (The Temptations), "My Guy" (Mary Wells), "Shop Around" (The Miracles), "You've Really Got a Hold on Me" (The Miracles) and "Who's Lovin' You" performed flawlessly by The Jackson 5 actors.  I have to mention the shining performance of Kai Calhoun and Chase Phillips who played Young Berry Gordy, Stevie Wonder and young Michael Jackson.  When I heard the song "Who's Lovin' You", I was simply blown away by the vocals and charisma displayed by the small actor and I couldn't help but hum along to the catchy groove.  Two more popular Jackson 5 songs covered here were "ABC" that was full of life and so much fun and "I'll Be There" that just makes you want to stand up and shout out "Just Look Over Your Shoulders Honey, OOH!"  Two other standout performers were Trenyce who played Diana Ross and Matt Manuel who took on the role of Marvin Gaye.  The positive aura and glamorous style that Diana Ross is so well known for was spot on.  Caught in the moment during a concert, Ross invites two lucky people up to the stage to sing "Reach Out and Touch" (Somebody's Hand)".  You really felt the love here and chanting theme of hope that we can "Make this world a better place" thanks to the glowing presence of Diana Ross.  Next, the actor playing Marvin Gaye was highly convincing and committed showing off Marvin Gaye's deeply passionate side.  Marvin Gaye classics heard were: "What's Going On", "I Heard It Through the Grapevine", "Mercy Mercy Me (The Ecology)", Stubborn Kind of Fellow", "What's Going On" and "You're All I Need to Get By".  The star of the show is none other than Berry Gordy played by Kenneth Mosley where Motown The Musical is all about Gordy's past, present and future.  It shows the evolution of Berry Gordy, aka Berry Gordy Jr., where dreams and aspirations are put in motion in his childhood and carried out in his adult life with plenty of obstacles along the way.  This story really came to life where you could sense the determination, strength and struggle all wrapped up in one.  I was truly inspired by the life and times of Berry Gordy portrayed by actor Kenneth Mosley because his passion and will to fight for greatness and success in the music industry is incredible and inspirational.  On the day Motown was born is also the same day Berry Gordy would rise up and introduce the world to an unforgettable style/form of music.  American Popular music would be revitalized after Berry Gordy/Motown hit the scene in "Detroit Rock City" back in 1959 and there was no looking back.  The legend of Motown/Berry Gordy Jr. will live on for generations to come and it's all thanks to a man's vision to have music that speaks to ALL people.  Motown The Musical is all about "The Songs. The Sound. The Story."  and put together nicely by all of the talented actors/actresses.  It's got style; it's got class along with rhythm and pizzazz where the Motown heartbeat is steadfast and unstoppable.
Some of my personal favorites were: "ABC"(The Jackson 5), "Give It To Me Baby"(Rick James), "Mercy Mercy Me"(Marvin Gaye), "Signed, Sealed Delivered I'm Yours"(Stevie Wonder), "War"(Edwin Starr) and "What's Going On"(Marvin Gaye).  My absolute favorite of the night though was the performance of "Ball of Confusion" (The Temptations) because it was so high-energy and highly relevant.  I've always loved this classic Temps song because the music and message is powerful and the world continues to be a big "Ball of Confusion".  Overall, my guest and I enjoyed every aspect of this Off-Broadway production that rejuvenated the Motown sound in a BIG way!  Motown…Then, Now & Forever!
http://www.motownthemusical.com/
By Jimmy Rae (jrae2@att.net)