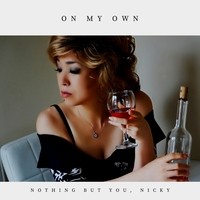 Nothing But You, Nicky sings with fire and passionate on the sweeping beauty of "On My Own". With powerful vocals leading the way, Nothing But You, Nicky serves as the very heart of the track as her voices rises up towards the heavens. Poetic lyricism defines the entirety of the piece while it unfurls in such a masterful way. A noir-like quality takes hold while the track grows in scope. Symphonic sweeps rules over the song while layer upon layer of sound comes into view in an almost painterly fashion.
A stately melody introduces the all-consuming aura that seems to permeate every facet of the piece. Her voice takes hold and the track moves as if in a dream. By choosing such a stylistic choice, the song has simultaneously a classic and modern approach. Classical influences help to further shape the piece, while the electronic flourishes better help to frame it. Featuring a highly unique approach, Nothing But You, Nicky allows the track to evolve with the utmost of ease. Nearly pastoral at times the song's emphasis on love feels real, as her voice has the feeling of true yearning and desire. The way everything simply comes together feels akin to being inside a glorious kaleidoscope, as colors and tempos shift in a beautiful fashion. For the final stretch of the piece it all builds up into a cinematic finale.
https://www.nothingbutyou.org/
"On My Own" shows off the undeniable skill of Nothing But You, Nicky and her impeccable storytelling abilities.
By Sam Torres