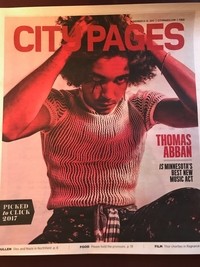 Thomas Abban proves to be a singer-songwriter of the highest caliber on the bluesy rock of "A Sheik's Legacy". Quite versatile, Thomas Abban creates an entire journey over the course of the album, allowing things to get real wild. Nimble and quick on his feet, Thomas Abban ensures that things veer through with an unquenchable yearning that informs the entirety of the album. A series of phenomenal twists and turns take shape while everything draws from a wide array of styles, going from hard rock to funk with the greatest of ease.
"Death Song" starts the album on an apocalyptic note, showing off Thomas Abban's incredible vocals. A gentler spirit takes hold on the ornate celebration of "Symmetry & Black Tar". Rollicking to its core, "Fear" taps into a fury akin to the White Stripes' best work. Infinitely catchy "Time To Think" presents a great bombastic style, careening from a tactile approach to a nearly all-consuming churn. Chamber pop comes to inform the gracious cinematic quality of "Sinner". On "Don't You Stay the Same" Thomas Abban opts for a stripped-down vibe, one that shows off a folksy tenor. Easily the highlight of the album comes with the edgy "Uh" where volume is an absolute must. With a truly maniacal fervor, everything about "Uh" simply works. Elegantly executed "Echo" builds up into a majestic fevered dream. Featuring a sprawling narrative journey "Born Of Fire" brings everything to a beautiful close.
"A Sheik's Legacy" proves to be an instant classic, with Thomas Abban offering up a unique voice.
By Vince Lowell