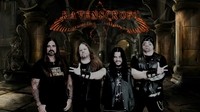 Ravenscroft nicely embody all the best of hard rock. Volume deserves to be blasted to the absolute maximum for they opt for a physical kind of sound. The riffs are heavy, the rhythms rush through, and the vocals rise above the maddening din. While hard rock nicely anchors their style they also veer into elements of metal, alternative rock, blues, funk, even a little bit of classic rock informs their approach. By opting for such a colorful, full-bodied world they ensure that the songs work on a mental as well as more visceral, or 'gut' feeling. Everything they do becomes tied together by a tremendous emotional honesty, the way the tracks seemingly soar up into the sky. Poetry reigns supreme over the hyper observant and thoughtful lyricism that prevails throughout their work.
On the defiant side of their style the aptly named "The Chase" instills a sense of chaos. Distortion features prominently while the multi-faceted, multi-layered approach works wonders while it builds itself into a frenzy of activity. For this piece, Ravenscroft show off their impressive chops, letting everything go loose. Unhinged and wild the track has a commanding overwhelming presence. For the much gentler "My Dearest One" Ravenscroft still display that same intensity, only this time they use it in a hushed awe of the world. Quite tender "My Dearest One" features a fantastic buildup while the group lets things unfurl in a naturalistic, almost western sort of way.
http://ravenscroftofficial.com/
Elegantly executed and possessing a directness of sorts, Ravenscroft delve into a glorious majestic world.
By Mike Johnson