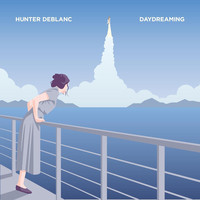 Hunter deBlanc's "Back 4 More" offers a triumphant optimism, one that revels in its pop perfection, with hooks aplenty and a fiery spirit. With a strong adherence to a neon-hued electro approach, the way the song builds up feels majestic. Layer upon layer comes into the mix giving the entire track a kaleidoscopic vibe. Easily the true heart and soul of the track comes from the playful vocals that skitter about nicely merging with the glitch-laden synthesizers that give the piece a sense of life. By opting for such an all-encompassing quality, everything simply works. At times Hunter deBlanc draws from the synthpop of the 80s, letting it inform his sound to a large degree.
Not a moment is wasted for Hunter deBlanc starts everything up immediately. With a powerful muscular groove getting set the song begins to rush forward with such power. By the time the chorus enters the mix things truly come into bloom. Guitar work goes for a funky quality, at times recalling Daft Punk's later works. By choosing such a carefully balanced approach the track virtually glides on by. Lyrics focus upon the idea of constantly looking forward, of trying to move along. Towards the latter half of the piece everything reaches a fevered pitch of sorts, before the synthesizers drop out completely for a moment as a communal choir brings things to a celebratory close.
Catchy to its very core Hunter deBlanc's "Back 4 More" offers a futuristic journey, with a sense of joy leading the way.
By Mark Youssef