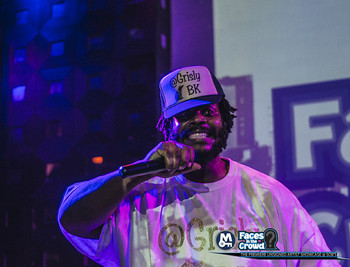 We are back at in here on a cold Wednesday in New England and it is so good to be live @skopemag.com. Today we have an emcee and a man that admire in that he is true to himself through his life and music. While so many others fabricate & tell lies, Grisly BK gives it to you raw and you have no choice then to embrace him and his sound. Join us today as we talk with this man about groeing up in Brooklyn, the TX church massacre, reaching new fans, and so much more!
Stoli: Where are we talking from today and what's up for the holidays?
We are Talking from my tractor trailer somewhere in PA. As for the Holidays getting paid as usual. I own my own Rig and move freight up and down the east coast getting money. Anytime I move it's got to be for the money, my family or Jah.
Stoli: Yesterday a mass murder took place in a Sunday church service. How do you feel about where our country is headed amongst such violence?
That shit that happened Texas was real Shitty. Rest in Peace to each and everyone that lost there lives in that brutal Home Grown Terroristic act. A lot of times it is your own people that do it to you. When the Asshole drove that truck over the people on Halloween, I went down there to show support for my city of New York. We was over 1,000,000 Strong. Mankind is Ruthless by Nature anywhere on earth especially when you give us restrictions. America as a Country was built on lies. So until we can rid it of political deception, misdirection, racism and take accountability for those mishandling of funds then we will not improve.
Stoli: What emcees did you grow up on and when did music become more than a hobby?
I grew up on gangster music. I came up in the crack era. Niggas like Kool G Rap is What I listened to. I really like Kidd and Play. At one time they were my favorite rap group. I still love and watch their movies in it's entirety. I would recite their lyrics. Kidd was really nice with his word Play. "Like That right".. Got them both in a sentence without associating them. I think I fell in love with it then. The Fresh Prince Thinking he could beat Mike Tyson pushed my love for rap even further I loved the stories. Slick Rick had stories, Biggies stories were Phenomenal and unparalleled. Pac will always be One of the greats. M.O.P. is my favorite Rap Group "For Ever and Always" which is also a song by them. It's not because they lived up the hill from my Projects Marcus Garvey. It's because They rep Brooklyn so hard and the music truly represents my life.
Stoli: How did you gain the alias Grisly BK and how does that represent your music?
I was GaneGrene for a while but other niggas had that name. My nigga call me GaneGrisly or BroMan from the 5 floor. Grisly Bashskullin is what I been going by for the past Decade. I told the publicist Bashskullin was difficult to pronounce. He said why not Grisly NY I told him Grisly Bk is perfect. I was toying with the Bk part for over a year. I still go by Bashskullin. I like Bashskullin better. Grisly Bk is easier for people to pronounce. You can call me either one.
Rappin was something I started doing in 1995. I realized that I was really dope in 1996 because I would get crazy reactions from other kids in class. They would have me rap to other people in school and then I had to top what I said last time so I became a rap addict. I pursued a rap career on and off throughout life. I actually preferred to live it more than rap it. Between living that street life, getting locked up, working to build a successful company, winning and losing I wasn't going after it. I wasn't chasing it. I was already moving and traveling to nice places, going to insane parties from High School til now. I wasn't missing anything. Check my IG I was partying with pretty girls on Halloween. Those Terrorist ain't stop us and our function.
Stoli: How did growing up in Brooklyn, NY help shape you as a man and an emcee today?
Growing up in Brooklyn was tough. I had a gun in one hand and a bible in the other. the Gun was protection and the Bible was also Protection. They both helped me convey my story. I was handed the streets and at the same time Belief.
The street: My pops put a gun in my hand at 8 years old. Belief: I was raised a Jehovah's Witness. I am sitting in the Kingdom Hall which is my place of worship and my pops would tell me to pass him his gun or get clip and bullets from out his coat pocket and give it to my Brother who years later got murdered. That's what made me grow up quick. It also heavily influenced. We were the ones that carried guns in church. That was the merger right there. The incident that happened in Texas would've never happened to us. R.I.P to those unfortunate ones in Texas.
Stoli: When you are not making music what other things do you do like work/family/school, etc?
I am always making music, even when I'm driving my Rig up and down I-95 I make some crazy music because I see crazy shit. All kinds of AssHoles getting into accidents, backing up traffic with their dumbasses. Yep always making music.
Stoli: You have made a solid following for your brand, what are the most effective means you learned to keep and reach new fans?
I reach new fans by being myself. My brother Scarsazi knew I wanted to be like him so he told me to be myself. I have a limited filter so I tend to say some crazy shit and the fans seem to like it
I am Grisly Bk forever. I bring to you my stories of the dead shitting their pants right before death when you discover a Grisly Crime Scene. At the same time bein myself wearing my Grisly BK clothes.
Stoli: I really admire you style & image. How important is it to how you look and appear in front of the masses?
My music is a Grisly Crime Scene. When I rap, If you listen instead of jumping, you will hear the Grisly in the lines. My music is exquisitely gritty. It's like you're walking down the stairs of a dark basement with a gun to the back of your head. I like to make dark music upbeat. I want people jumping up and down wildin out at my shows.
Stoli: Your catalog on Soundcloud is fire. Does it bother you that fans can stream music for free or do you see it as promo?
Thanks 4 da kind Words Bigup Bigups. It doesn't bother me. Each and every song I make is full adrenaline so the Fans are gonnna fuck with it regardless.
Stoli: If you could work with 1 artist of any genre who would that be and why?
I would like to do a Crazy Ganster song will KooGRap and Scarface. I would also like to make a song for potheads with Snoop Dogg, Devin da Dude and Wiz kalifa.
Stoli: 2018 is coming soon. What are 2 music goals you are pursuing?
Grisly Bk should be at S.O.B's Live January 25 2018 and in More magazines, music videos, comedy eyythang. I Also wanna shut down festavals hopefully.
Stoli: What is coming up for Grilsy BK and where you @ online?
You can find my @grislybk.com @facebook.com/grisly @twitter.com/grislybk @IG @Grislybk1
You Gotta Be Tough Kid!