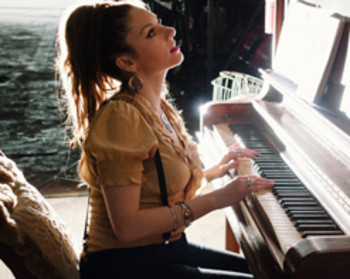 Sarah Ragsdale, a newly christened resident of the Garden State, is a singer, pianist, songwriter, and composer who uses her adventurous "Piano Woman" style to tell songs that take a mixture of pop, jazz, and folk influences, the result of which is something she calls "Ragstime." Sarah has toured and performed live in America, Europe, Asia, and Africa and made television appearances around the world.
Sarah will be releasing her new album Whimsical Romance this fall. Of the album, she says "Life is like one big romance. This collection of songs is about that romantic story called life, and the ups and downs that come along with it." The songs- which are raw, rustic, catchy, and melodic- have been written at various stages throughout her life, fancifully interpreting the ups and downs of love and romance. Driven by piano with accompanying percussive snapping and clapping, the album has hints of blues, jazz, and even ragtime.
The first visual from Whimsical Romance is the music video for "This Kiss." Filmed around the city of Baltimore, it's a fittingly whimsical, retro clip. Sarah, dressed in polka dots and with her hair tied up in a ponytail, skips around the city, writing lyrics in her notebook. She plays a keyboard on the sidewalk, rides her bike past local Baltimore landmarks, and kisses a puppy. "This Kiss" is an old-timey track with a playful, fun video that music fans of all ages are sure to love.