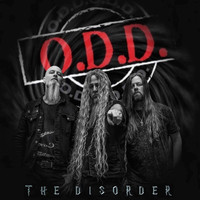 The intense desire to communicate their passion with a wide range of audience has brought many gifted musicians into the spotlight. Creating fusion music for some time now, the 'O.D.D.' group of musicians has further accomplished their proficiency in creative music with the release of their second EP, 'The Disorder'.
Based in Atlanta, GA, 'O.D.D.' is a band of three musicians who are passionately creating fusion music from the year 2013 and has inevitably marked a place in the world of innovative musicians. O.D.D. takes an ingenious approach towards a fresh style of fusion music which lurks somewhere between hard rock and heavy metal. The newly released EP, 'The Disorder' is one of their best experimental triumphs that have already reached # 228 on the North American College and Community Radio Chart. Compared by critics, the musical melodies by O.D.D. is a balanced contrast of Alice in Chains and Anthrax. Thus, it clearly explains the reason every song of this EP has been licensed to be used by The Discovery Network, MTV, and Nascar for their shows like 'Shark Week', 'Velocity', 'TLC', 'Ridiculousness' and 'Nitro Circus'.
With the upcoming EP, O.D.D. offers their audience with four experimental heavy metal melodies in their own characteristic structured song and melodic vocals. The first song, 'Executive Order,' develops the ambiance of the album with its heavy guitar riffs by the brilliant Harley David Smith and vigorous drum section by The Muffer. With a dynamic instrumental backdrop, Smith efficiently pairs his enthusiastic vocal tone to create an engaging rhythmic harmony. As the song progresses, the bassist of the group, Gunny joins them with his skillful fingers strumming the guitar which en-kindles fire on the stage paving the way for the next set of songs. Amusing lyrics and Gunny's expert pulsating bass replenishes the air while the second melody, 'Label Killer,' zooms in with more vigor and energy.
With the last two songs, 'The Loud Fighter' and 'The View', O.D.D. exhibits the undying power of the three exceptionally competent and skillful musicians which can compel its audience to leave their seats and groove with them. The vivacious instrumental arrangement and striking digital effects enhance the quality of performance quite a few high notch. Though a fusion genre, the songs enclosing the EP are powerful and very easily influence its audience with its effective and strong aura. The voice quality of the album is equally brilliant just like their earlier ones.
'The Disorder,' does hold the emblem of the credibility of the collective desire of the three musical artists, David, The Muffer and Gunny, who have proven their immense love, knowledge and dedication in the field of creative music. The high-intensity melodious tracks along with a rich and powerful instrumental arrangement are sure to pulse an adrenaline rush for many rock and heavy metal music followers.
– John Johnson