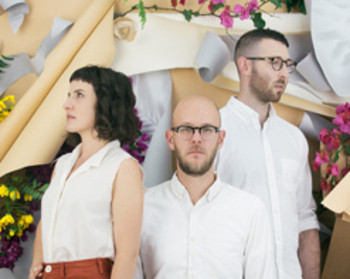 Any good rock band is worthy of attention and maybe even celebration. But a rock band that can pull the listener into an intriguing and unfamiliar parallel world? One firmly grounded in history but the possessor of a peculiar sound and artistic vision? That's a rare thing indeed. A group like that is bound to make music and videos that are worth falling into – immersive music, hypnotic videos, transmissions from another time.Allelujah is a band like that, and The Death And Life Of Capt. Nathan Baker is among the most beguiling – not to mention quietly ambitious – rock albums to be released in the past twelve months. It's a cycle of songs inspired by a scrapbook of photos of real-life veteran of the American Civil War, and its ten tracks trace Baker's emotional and spiritual development. The music on the set draws from guitar rock and the avant-garde, American folk and incendiary gospel; many of the songs build from stately beginnings to towering, cathartic conclusions. "Chariots On Fire" is one of those songs: six minutes of piano, brass, tremolo organ, growling six-string, evocative storytelling lyrics, and a magnetic performance by singer and songwriter Andy Byers that feels at once like a testament of faith and heartbreak.
http://www.cosmicdreamermusic.com/
This isn't the sort of music that Byers has always made. Before forming Allelujah, he and multi-instrumentalist Lucas Oswald played in the Minus Story, a critically acclaimed psychedelic and experimental rock band that shared stages with, among others, Okkervil River and Deerhoof. Oswald has collaborated with Shearwater on Fellow Travelers, a bold set of alt-pop reimaginings released in 2013. Back together, Byers and Oswald have taken their music in challenging new directions, and incorporated ideas from the many projects they've worked on over the past decade.
In addition to his experience in music, Byers has also worked in the filmed entertainment industry – he's collaborated with Isabella Rossellini on her thrillingly bizarre educational Green Porno series about the mating rituals of insects. Some of the weird, otherworldly props he designed with Rossellini for the show make an appearance in the clip for "Chariots On Fire". Much like Allelujah's music, the video feels like a peek into an altered consciousness. We don't want to give too much away, so we'll just tell you that you'll encounter (among other things) some startling paper art, a series of creepy-sexy cross-legged mannequins, a stack of gold bars, a mysterious altar, and an extreme close encounter with a bowl of poured syrup.