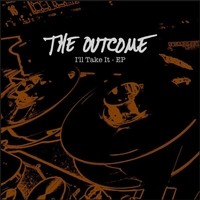 The Outcome offer glimpses of dreamy glowing world with the laid-back summery vibes of "I'll Take It EP". Impeccably crafted, the songs embrace mellowed grooves with a slight nod towards psychedelic rock. Layer upon layer of sound comes together in a most extraordinary way, for the many tracks work in unison to delve into surreal landscapes. Usage of space plays an important role throughout the collection for the Outcome chooses to make patience an important ally. Stylistically the Outcome brings together elements of surf rock, tasteful indie rock, even a little bit of bossa nova into the entire tapestry. At times the Outcome feels reminiscent of the short-lived but lovely Ambulance LTD who explored similar paths.
Easily the highlight of the collection comes with the gentle work of "Don't Wake Me Up". Reverberating out into the infinite, everything feels downright majestic while the song covers such vast distances. A loose structure defines the piece while the Outcome shows off their undeniable chops. Things become quite beautiful and tender on the yearning temperament of "Epicenter", where the guitar positively glistens. Catchy to its very core "I'll Take It" utilizes a little bit of dream pop to great effect, even incorporating some funk into the proceedings. Bringing things to a triumphant close is the glorious journey of "Wearing Thin" where the Outcome really embrace a jazz/funk fusion.
http://www.theoutcomeband.com/
With "I'll Take It EP" the Outcome create songs that linger in the mind, with thoughtful poetry from the vocals and tasteful guitar work.
By Max Underwood