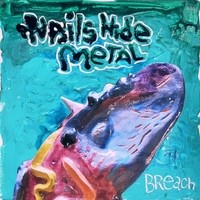 Nails Hide Metal's "Breach" goes for a gritty, early 90s indie rock spirit to it. Full of love and passion the way the songs unfold reveals their true beating heart. The fuzzed-out guitar work, the powerful percussion, and those joyous vocals all work in unison to deliver something so positively tender at times. Infinitely catchy the songs linger in the mind courtesy of Nails Hide Metal's keen ear for melody. Lyrics feel akin to poetry as their abstractions have an emotional quality to them, as they conjure up moods as much as they do mere moments.
Stream: https://www.reverbnation.com/2206174/album/180306
Burning through its length with tremendous energy is the highly articulate storytelling of "All Through". A bluesy temperament defines the lumbering laid-back vibes of "On the Hill Stairs" which feels reminiscent of Parquet Courts' similar deadpan direct delivery. Rumbling through with a swagger the colossal "Cause" feels infused with an ominous, almost eerie spirit. Confrontational to its very core "I Can't Believe" taps into the spirit of late 80s Sonic Youth possessing a truly fantastic sneering attitude. The spaciousness of "Straight and Narrow" gives it a gigantic aura while the many layers of sound work in unison. Easily the highlight of the album comes on "You Can See" with its pummeling rhythm and acid-fried western twang. Affection pours out of the jubilant "Bend The Day".
On "Breach" Nails Hide Metal sculpt a gorgeous, colorful, and all-engrossing world, one that feels positively visceral with its desire to rush forward into such glorious colorful realm.
By Vince Grant