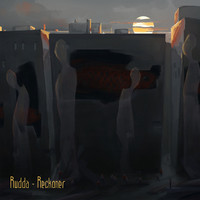 Rudda's take on Radiohead's "Reckoner" keeps the ethereal quality of the original while transforming it into something even more ambitious in scope. Vocals swim through with a dreamy, otherworldly quality. By giving the vocals an ambient, borderline shoegaze, approach the track delves into entire new universes. The nimble rhythmic structure of the piece helps to ensure that all remains at least somewhat grounded. A loose quality to everything else allows Rudda to experiment greatly with melody, riffing, and other elements throughout the entirety of the track. Fortunately, the experimentation does not detract from the emotional core of the song but rather adds to it.
Playful melodies introduce the track. Taut percussive elements begin to filter into the overall mix of the track increasing in power and intensity. Upon the vocals coming into the mix the song gains a nearly heavenly take on the entirety of the proceedings. From there Rudda explores ever more ornate scenarios. Various melodic fragments weave their way in and out, giving it a shimmering spirit. Akin to looking for salvation the way the many elements try to find a steady, consistent groove feels outright joyful. Quite heady indeed the song points to psychedelica's future as the way that the song builds up and eventually unravels feels particularly graceful. For the finale Rudda strips the sound layer by layer until it leaves only the ghostly traces.
https://www.facebook.com/rudda.sounds/
With "Reckoner" Rudda does Radiohead's original great justice while adding a joyous kind of futurism into the proceedings.
By Ben Jamis