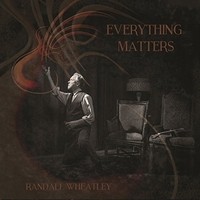 Austin, TX based legendary playwright made singer songwriter, Randall Wheatley, releases his debut full length album entitled –
Everything Matters. Wheatley's previous success and reputation as ''the rock star of the playwright world'' is carrying over into his newest role as a singer songwriter. Each track on the album provides pure entertainment no matter your genre of choice, with Wheatley on ukulele and backed by some of Austin's finest musicians, the album achieves the perfect blend of quality musicianship, songwriting and precise lyrical delivery.
Ten tracks make up this unique album with that playwright construction factor being the feature tool of expression. It tells a story that if you do not follow, you can still take something away from in the occasionally hypnotic music. Not being familiar with Wheatley doesn't pose any snags in describing what's written all over it.
The CD follows the playwright concept with a strong narrative approach in the songs to keep it interesting, but it's equally divided with singing and spoken-word. There are times while listening to spoken-word where the percussion picks up and carries it along just like a song.
https://itunes.apple.com/us/artist/randall-wheatley/id1282114383
Most of the subject content is picked up on very easily as it goes, and the rest is helped by the titles of the songs to help understand that Everything Matters. It never gets hard to follow, especially for lovers of spoken-word. But it's also very musically fulfilling as well. It has everything it's supposed to for such an album. This was a great new experience from my perspective, and it only marks intrigue for what Whatley can offer on future releases. It begs for a follow up that way. It's full of tracks that mention things around us in everyday life, it's very cerebral and interesting at the same time.
"Betty Goes Shopping" kicks it off with a tune about getting prepared for the holidays, etc. It goes through the vernacular of average happenings which include everything from working in the kitchen to hearing Brenda Lee on the radio. And that just how the album plays out as the tracks follow, with some of even getting explicit to show how chaotic things can get, all covered within the opening track.
Once you dig in you don't want to stop until you've heard how it all plays out together. The opening track puts you that much in position for the rest, as it delivers from the get go.
Following in narrative fashion, "Furniture As It Relates To Our Dreams" with a comical delivery, but not to be taken any less serious because of it. This one stays locked into spoken-word, with a galloping percussion that builds up around some nitty gritty lyrics that verge on adult-only appeal. But it's definitely-not kid's stuff to begin with. However, something tells me the humor makes up for any concerns there.
Other tracks include "Letter From Shelby County" which covers the obvious lyrical territory. The idea is to take in everything this album has to offer, including the enjoyably sublime comfort of "The Damage Of My 6:20 Alarm" with its catchy guitar playing, to the closing notes of "The Middle Ages," they're worth any music and playwright lovers time.
Todd Bauer