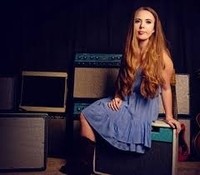 Beth Noble's EP – The Story Of Her Life, features her debut singles "All I Need" and "Stupid Girl." Beth began her career singing gospel hymns and dancing at her family's catfish restaurant in Quitman, Texas. Her affinity for music is deep-rooted and began with her great-grandfather, a renowned fiddler who played with legends such as Ray Price. This five track EP packs an album's worth of music, which makes it a long-player and effortlessly helps shed any EP concerns country music lovers may have about their content limitations. It plays like an album and that is the first compliment about it.
The EP kicks off with the lead single "All I Need" to get the show on the road, and it's a good start but it only hints at what's to come. Her voice jumps right out at you though, and that is always a good sign. It's a fun- loving track with a wholesome quality and a radio-friendly pace.
BANDMIX: https://www.bandmix.com/beth-noble/
The positive vibes pick up in the mid-section when she starts flying on the vocals, and it all ends on a good note. The next track, "God Has A Plan" she sounds melancholy on vocals and the harmonies are second to none. Beth Noble uses the vernacular of tonal qualities that make a song great, no matter what's she's singing.
On the title track, "The Story Of Her Life" she proves everything she's worth, exemplified in just one song. This is a track that harks back to all that was once good about music, when everything sounded great or it didn't get heard by the masses. It comes on strong from the first note and everything about it just rocks. The guitars wail away as she sings with pure excellence with a crisp sounding vocal mix. The purity in her voice is featured with precision in every verse. This track defines the whole EP and helps it flow more like an album. It's worth pointing that out as much as anything else on the EP.
The second of two singles, is "Stupid Girl" which also carries a big vocal sound, and lyrics that round it off nicely with an accessible track once it's over and you want to hear it again. Never mind the subject matter, it speaks for itself and that's obvious, but it's how she conveys humility that give it its most honest delivery. It has that something which Beth Noble is clearly trying to say in the lyrics, and when you combine that with the rest of the efforts it turns out to be a solid addition to the EP, and a smart choice as a single.
Every ounce of pain is felt without overdoing it, and that's only some of the magic found in these songs.
This record contains a little of everything Beth Noble is saying to the world, with songs of regret, change, and the driving motivation to keep going as she shares her feelings. It comes out just was well in the closing cut "See Me." I'm usually less interested in EP's and singles than full length LP's, but with everything Beth Noble brings it just gets better as it goes on this well-written, produced and arranged EP. In-fact, the final track stands up to the opening track with ease, and that's following the right pattern these days to put out consistent content, which in a nutshell describes Beth Noble and her music.
FACEBOOK: https://www.facebook.com/bethnoblemusic/
Larry Toering