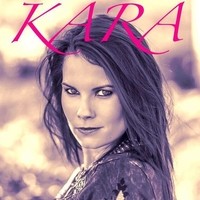 Kara Stevens is appropriately called "The New Metal Queen" but it's a distinction apart from her music, so whatever it means, it reflects little to none on – Passion, her new release with the twice Grammy- nominated veteran pianist and composer, Mark Little, to classify it as a duet album under the KARA name which has earned the vote for "Best Female Rock Artist" in San Antonio. Mark Little has worked with everyone from Bill Evans to Stevie Ray Vaughan and more. Together they have over 75 songs, and this two-disc release comes with 24-tracks, one featuring a whole band, the other vocals and piano-only.
So many songs to describe with two discs, it's a lot to cover and can't possibly be detailed in this review, but the overall aim and delivery of it can help turn anyone onto this amazing piece of work between two remarkable musicians. Running through the first eleven tracks you get so much to enjoy, it's a full-length wonder of mostly mid-tempo tunes that weigh heavily on jazz lover's ears. Disc one kicks off with one of the best pieces of the whole package on "Booty Call" with it's obvious aim at a hit single. This is a killer track to get the ball rolling from the get-go. This song has everything, it goes above and beyond the proverbial call.
The horn parts and solo are magnificent, but the guitar parts and eventual solo are what goes the distance to enhance Kara's vocal delivery on this track. It's an exceptional opener to say the least, and it has all the elements combined that make up a good single. Nothing but pure class here. As a lover of soul and jazz music it takes me back to the late 70s when bands like The Crusaders were topping the charts. It even escapes the campy title and tames it like a lion as its mentioned throughout the song. This is all done with the utmost sophistication and style people aren't bringing often enough these days.
"Duke" is the follow-up to the opener, with an exquisite story that refers to her father. It plays like a dedication that way, and it's soft as a feather delivery is what actually-makes it such a strong track. Then a couple of slow tunes follow in the shape of "Everlasting Love" and another one entitled; "Friends" which is carried by an amazing piano performance in the studio by Mark Little. The latter plays out the strongest of the two, but they go together delightfully. The next few tracks vary in tempo while the measure right up to the previous tracks on disc one, with everyone turning out fine contributions to them, particularly Mark Little himself. Together, they give the money's worth.
Once "Magic" comes and goes, with its sizzling hot guitar playing, a collection of awesome full band tracks to be heard is the consensus. This makes way for disc two, which takes less describing but is no less brilliant than disc one. It's just Kara herself, accompanies by Mark Little on piano. "More Precious Than Gold" starts the disc off with a beautiful ballad that although the likes of can be heard on disc one, but gets completely showcased on disc two. It's a sublime listening experience before the first cut is even over. The playful ambience of disc one is equally matched by a more serious approach, making the two discs go together so well. There's much to mention in-between, but it closes with some more music added on "You And Me" for an epic ending.
https://www.facebook.com/kara.stevens.96
Larry Toering