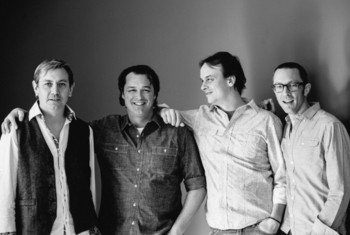 So here we are, back at in cold November. I am so happy to be alive & writing about music I love on my favorite @skopemag. Today we have an awesome band by the name of Willamena. They are fascinating in that they began in Kalamazoo, MI and now they keep the music playing while being scattered across the USA. We will get all into Willamena but first some music news. First up, Kobalt Capital Ltd. (KCL), announced it has closed its second managed fund to invest in music copyright, with a capacity of $600 million through $345 million of equity commitments plus debt. The investment fund is being led by UK pension fund, RPMI Railpen (Railpen), along with other institutional investors. In other news, A group of leading European digital music companies announce the launch of a new alliance, Digital Music Europe (DME). The alliance brings together Europe's digital music leaders including 7digital, Deezer, Qobuz, SoundCloud, Soundcharts and Spotify. Digital Music Europe will showcase and promote the success of the European digital music industry, it will serve as a resource for policy-makers, media and the digital music in dustry, and will advocate for policies that shape a favourable business environment for digital music. So now back to Williamena, as they are about to release their 6th album, 'Strong Enough to Last.' With their lead single "When You Close Your Eyes" these guys keep getting better. Join us today we talk about using technology to keep the band playing, the new album, negative and positive reviews, and so much more!
Stoli: Where are we talking from today and are you ready for Halloween next week?
W: This is Chad Hendrickson, guitarist and co-writer in Willamena and I am answering these questions in Franklin, TN, just South of Nashville. No, I am not ready for Halloween and in fact I am NEVER ready for Halloween!!! I have a few decorations up but nope, I'm not ready. But I WILL be ready, if that counts still.
Stoli: How did you 4 come together and were you friends before the music and the band?
W: We were not connected before as friends. Willamena was founded in Kalamazoo, MI and I first met Lukas Ross (Willamena's vocalist) during an audition and we hit it off right from the first note. Kalamazoo, MI is a great city and while we are now scattered as a band we all still LOVE Kalamazoo and Luke still lives there. It is still our home. Drummer Ted Mitchell also auditioned for the band and bassist Mickey Calhoun was also an audition guy. In Willamena we respect the hell out of each other and that helps to explain why we have been able to stand the test of time! As I mentioned, we are scattered now but we still find ways to keep moving forward musically. I live in the Nashville area, Luke is in Kalamazoo and Mickey and Ted live in the Outer Banks, NC area.
Stoli: What happened when the music became less of a hobby but a serious potential career?
W: As Willamena has had more commercial success (5 nationally charting radio singles in the Triple A radio format to date!) the pressure gets turned up and the expectations become higher. In 2015 we broke into the top 90 on national FMQB radio charts and that was exciting, esp. noting that Willamena is an independent band and we do everything ourselves. So we expect more from ourselves, our songs and our recordings. We KNOW people are going to listen nationally and that is exciting but also scary as now we KNOW people will be listening. On top of that we know as an independent band (at least for now!) expectations are actually higher as your songs and recording have to be of equal or better quality than label acts as adding an independent band to radio rotation is a hard thing for a station to do so the song has to be really good to get that attention. And with increased attention comes more pressure so it IS hard…but we love it still and we can take the pressure.
Stoli: Do you see technology and social media does more to hurt of help an indie DIY band like yours?
W: Both of course. We use technology a lot as we are scattered. We recorded our last album in Franklin, TN, Kalamazoo, MI, Minneapolis, MN and mixed it in CA and mastered it in New York and technology enabled us to do that. We also use Skype and now Facetime to stay in touch and we take advantage of other techniques too.
In terms of hurting social media has been great for getting out there but the amount of competition also increased making it even harder to stand out now I think. How do you get people to listen to a record now when so many people can do what we are doing too!? So while making records has become easier and cheaper those same technologies have increased competition to a point where it is WAY harder to stand out now. But…that is the game now and we are finding ways to stand out too…all while still being independent which I think makes our national radio success even more impressive.
Stoli: Where did the name Willamena and how does that relate with the band and your sound?
W: When we formed we made a commitment to songwriting in what felt like a throw back way. We wanted real songs played by real people. We didn't want to rely on technology or cheap hooks or loops and such to stand out. We wanted our songs to always be the defining characteristic of Willamena and I think overall we have done that. But that approach feels throw back and we wanted a name that allowed us the freedom to do that. The name Willamena felt like the name of a town or place to us where we could go and write the songs we wanted to write. Where we could develop characters and be honest with ourselves without having a name that might force us into a box or a certain style.
So…we named the band Willamena (which is also the name of a tune written by Luke). We kept the name and ditched the song. And I still feel that the idea of being a song-first band is a freedom our name affords and we still have the same honest approach to our songs and song-writing.
Stoli: Your new EP Willamena – "Strong Enough to Last" is out now. How long were you writing and recording that collection of music?
W:The new Willamena EP "Strong Enough to Last" was written mostly in 2015 with "When You Close Your Eyes" being a late addition that was written just before we started the sessions for what became "Strong Enough to Last."
Stoli: If you were to make a full blown video for 1 song on the album what would that be and what would it look like visually?
W: We try to keep our heads in our pay grade in the sense that we are musicians and songwriters and not so much good at thinking on that level. If we had a partner that approached us with their idea for how to capture one of our songs we would be able to give ideas at that point but in terms of US actually making a video I think that might be a mess! We now know what we are okay at and not okay at and visually that just isn't our comfort zone at all. But we would love the experience of talking with a director about some of the symbols in our songs and how to bring those to light.
On a related note we do strive to make sure Willamena's songs and lyrics work on multiple levels. Our songs might seems kinda simple but we think there are varied meanings to many of our tunes and lyrics and rolling up our sleeves to work with someone on making those struggles in our songs come to life would be VERY exciting. But if we were driving that bus we might just drive it into the ditch!
Stoli: You have got some positive reviews about the EP which must be nice. How would you react if you got a negative review, would you be out for revenge?
W: It is always incredible to read positive reviews. That really feels great to connect to people like that. Folks who seem to "get" what we are doing. And over the years Willamena has had some very nice reviews from The Village Voice to Paste.
But not all written reviews have been nice and in fact many radio folks offer their opinions about us and those are also sometimes brutal (as that game goes…they are too busy to sometimes take the time to be nice!). We read reviews and take feedback to heart. We try to learn from negative/critical feedback as that is just as important if not more important than positive feedback. So, no, we are not out for revenge…rather, we want to win over those people over time. Negative feedback IS a challenge but we have learned to accept those opinions too even if it can be hard to take (and we need a little time too as our instant reaction may not be so nice!). Time heals all wounds, right?!
Stoli: What else in your lives do you also have besides the band such as family, work, school, etc and how do you balance?
W: We pride ourselves with being very respectful to everyone in the band and everyone around us. We all have families and we all have full lives outside of music. That is important and in fact critical to us. We find ways to make great music in the cracks of the real world. As I mentioned technology allows us to keep on this path but it is hard. Currently Willamena is primarily a song-writing and recording outfit with not many live shows these days. But in the past that was flipped. Willamena played hundreds and hundreds of live shows all over the place (mostly in the Midwest but also New York, Chicago, Detroit area and all points in between). We were so busy as a band that we didn't have time to really breathe in a lot of ways. Work and music for us for years was our life. Now…we are taking our time and moving forward on our schedule in a way that works for us. We are taking a break from live work and honestly that is really re-charging us. We are concentrating on our songs and our recording process in a way that we could not before when we played so many shows prepping for the studio was hard.
Stoli: I love your song 'When You Close Your Eyes.' Who wrote that song and offer us background info on the inspiration?
W: Luke and I co-wrote everything together. Normally I start the song process and Luke and I finish it together in a way that makes it a Willamena song. We make sure the perspective fits what we are doing and that the songs feels like a complete statement on its own.
Most great songs seem to write themselves (and other songwriters I read about seem to share that opinion). "When You Close Your Eyes" was no different. I was running chords and such on a practice guitar I have and suddenly those simple chords and that melody came to me and that story unfolded almost all at once. I wrote the verses and chorus in about five minutes I think…then forced myself to take a break. I took a shower and the pre-chorus hit me at that moment and the tune was mostly finished after I ran out and wrote that part down. After that I brought it to Luke for final voicing and arrangement work as well as editing and the tune was done.
We try to be positive as a band and we like the idea of being pushed by dreams and aspirations that are greater than what you think you can do. This tune fits that narrative that we like. It is a tune that points out that life can be hard as nails but inspiration can save a person from dark times.
Stoli: How does being in a band help enhance your life from a mental, physical, & spiritual level?
W: This is our outlet. This band and these songs allow us to dream, to want to be more than what we are. We get to reach people in a way that we can't outside music. Our lyrics and content can make a difference to people. When we take the time to tell our stories in a real way, in a way that is connected to the REAL world but that helps to inspire people we know we are in a good place. That helps push us as adults, as parents ourselves and as contributing members of our larger society. This band allows us a freedom that just doesn't exist for us in any other place. We can talk to ourselves, our own families and kids and strangers in a weird way through our songs and that is a very spiritual thing for us. Song-writing is almost a sacred event for us as our intentions are to amplify the real in a way that inspires. And no other aspect of life does that same thing for us.
Stoli: What is coming up for Willamena and where you @ online?
W: We are pushing this new EP out to the world still. We released the third single from this EP this week (the new single is called "Open Up the Stars") and that is starting to get attention. We finally hired a couple people to help tell the Willamena story and finally more attention is coming. So we are working hard to bring this music and this band to the world…mostly through our recordings still as we are not ready to hit the road just yet. That may happen soon and when it does that will be incredible.
Past that, yes, we are starting a new recording project too. This one will be a full length album and the songs are mostly complied, written and on their way to being arranged correctly.
Willamena is always about the NEXT project, the next step, sometimes to our detriment. But we follow our instincts, wherever that leads us and I think the future is certainly exciting. Thanks for the opportunity to talk to your audience! I hope people founds this interview interesting, worth reading and maybe even inspiring.