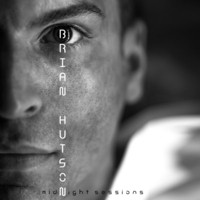 Technically gifted singers aren't always emotionally affecting. It isn't enough to possess outstanding vocal range – the truly time tested singers exert their hold over listener's imagination because they are behind every word with the sort of phrasing that makes a song's experiences come to life for its audience. Brian Huston's professional training as a vocalist, extending across a variety of styles, gives him the awesome tool of technique to further shape his performances into moments that resound in the memory. His Joe Vulpis produced EP Midnight Sessions is a five song collection that highlights his stylistic diversity as well as his interpretive powers. Hutson's songwriting on Midnight Sessions is accessible, yet smacks enough of the personal that it feels we're getting a well-rounded look into the heart of a man. This New York City based vocalist has experienced considerable chart success already and, with the release of Midnight Sessions, is undoubtedly poised to take the next significant step up the ladder towards stardom.
The EP's first track, "Break My Heart", certainly doesn't attempt remaking the wheel in terms of subject matter, but he nestles the lyric's well known tale inside an immensely stylish musical vehicle. There's a warm and delicate weave of piano, electric and acoustic guitar, light keyboard work, and well timed drumming making this a formidable musical performance, but Hutson's emotive and appealing vocal seals the deal. "Kiss Me Feel It" makes use of Hutson's wont for a memorable chorus. It is, otherwise, a much more stripped down affair musically than what we heard on the opener and benefits enormously from some nuanced touches like the light organ work that help set it apart. His vocal touch with this song is even more artful than we heard on the opener. We're treated to a sort of fragmented acoustic shuffle with the song "One Night Stand" and the airy melodicism contrasts nicely with the subject matter. He amps up the intensity factor as the song approaches its chorus, modulating his voice into more emphatic registers, but the performance never ceases aching with the same sensitivity that he begins it with.
"Behind the Wall" has a more assertive edge and a more individual, unique musical arrangement than the EP's other songs. Guitar plays an important role in getting this song over, but the pivot point upon which the performance truly turns is the persistent and unobtrusive backbeat. It hits a nice crescendo with the chorus and Hutson makes it even more worth it by throwing himself into those moments with utter abandon. The EP's bonus track and final song "Keep the Faith Alive" is different from the preceding four songs, but it deserves the same priority billing that the earlier tracks receive and strikes a distinctly different note thanks to its neo-classical inclinations and the unfettered optimism of its message. This is a stirring and deeply affecting effort from a vocal and songwriting talent who, every indication on Midnight Sessions indicates, is destined for even greater achievements to come.
Photo Credit – Zachary Shapiro
By Dan Boyer