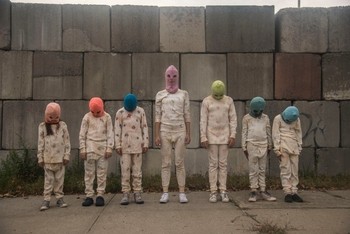 Today, for the anniversary of The Russian Revolution, the Russian feminist art collective Pussy Riot releases a new song "Police State", which in usual fashion is accompanied by a music video HERE. The moving picture sums up the current state of affairs of authoritarian leaders like Russia Putin and America's Trump: Actress Chloe Sevigny, who plays a law-enforcement officer in the video, is carrying a baton for riot control. Today's youth is strapped stuck to watch political leaders run and ruin the world. The ballet dancer's grace is juxtaposed by police being fun-stoppers.
Pussy Riot's Nadya Tolokonnikova worked with GRAMMY nominee Ricky Reed on the song and the video was directed by Matt Creed and the director of photography is Sean Williams.
"Police State" comes exactly one year after America's current president was elected and you might remember Pussy Riot's latest song "Make America Great Again" (director Jonas Åkerlund), which was eerily shot and released before the 2016 election was decided! "Straight Outta Vagina" and "Organs" rounded out last year's Pussy Riot's debut xxx EP.