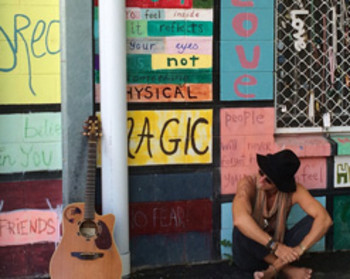 Every once in a blue moon, an artist comes along that projects their heart on a screen, for us to watch their story like a film with their music as the soundtrack. Donovan. Bob Dylan. John Lennon. These are artists that have influenced others in such a deep way, they've been known to change lives. Hailing from the Gold Coast of the land down under, AKoVA has brought us his heartfelt story in the form of his new single, "Headlights".
Dubbed the "Rhythm King", AKoVA believes that wherever your heart is, is where you'll find your treasure. This multi-instrumental talent does just this by following the route within him. He enthrals audiences by combining vocals, guitars, ukulele, cajon, djembe, ankle bells and an assortment of other percussive instruments, often all at once. His journey began as a child.
"I've been playing music ever since I was a kid. One day I was driving along with my old man when this song came on the radio… 'Sunshine Superman' by Donovan. That song put me on my path right there and then. Donovan's been a big inspiration ever since."
After a lifetime of mastering his craft, his new song "Headlights" comes from the perspective of a nuanced man, singing about the emotions a father undertakes when his daughter is growing up. The video opens up with a quote, "My daughter asked me, 'Dad, how to I know if this guy is the one?' This is my reply…". As an open letter to his daughter, every word he sings is spewing out of his heart with deep flow. He asks her questions like, "Does he listen when you speak?" "Does he hold your hand while you fall asleep?", gauging his daughter's feelings. The chorus employs a passionate repetition of the line, "Are you in love right now?", as orchestral strings flow in and out of the mix, creating an incredible climax at the end of this ballad.