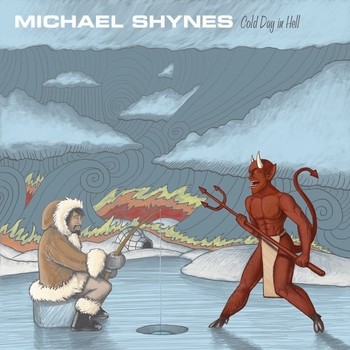 Michael Shynes has put together his musical life in the tried and true, old fashioned way – he's gotten down to the business of honing his guitar chops enough to carry the weight of his songwriting ambitions and perfected his craft in front of live, paying audiences throughout the Midwest. It didn't come without personal loss and sacrifice. Nothing worthwhile does. The easy going charisma of "Cold Day in Hell" is backed up by enormous vocal and musical skill and the spirit of a genuine artist giving voice to his life through the medium of popular song. This is a song with entertainment value galore thanks to its fine melodic content, but it's also an important personal statement that nevertheless shows the artistry to refrain from ever being too heavy handed. "Cold Day in Hell" has a relaxed feel while still never seeming ramshackle for a single second and balances adult concerns with a bit of welcome light humor.
His voice will capture your immediate attention. When he enters the song, it's literally that moment when you realize something almost magical happens – it's as if this particularly musical arrangement, down to its specifics, had been waiting for this particular singer to come along and own it. He definitely owns it. "Cold Day in Hell" immeasurably benefits from his dramatic reading, but it never risks over-dramatization. Instead, he seems fully cognizant of both the pathos and comedic potential inherent and exploits them to the fullest. There's an appealing commercial edge to his voice that's undeniable, but what's equally undeniable is that the sweetness in his voice is accompanied by the needed amount of gravitas. It's a quality brought into perfect balance with other strands in the recording and the musical mood. This synthesis is notable and not something we always hear from performers, neither newcomers nor veterans.
There's kind of a throwback feel to the music accentuated by the organ and strong rhythm section work that gives the song a palpable swing. The music takes on the same relaxed, loosely confident tenor like Shynes' singing and the production really helps the song stick to listener's ribs thanks to its warm treatment and the instrumental clarity. There's no hint of this being some sort of indie effort at all – instead, it is an immensely polished affair that, despite the sheen, is full of feeling. The song never runs on too long, thankfully, and one of the most important reasons why accomplishes so much is because the playing is honed to such a sharp edge. "Cold Day in Hell" is a single that will likely define Michael Shynes' career, but it is also a clear indication that there's more career defining singles and releases to come. It deserves to make anyone's best singles of 2017 list and makes an impact without ever over-exerting and trying too hard.