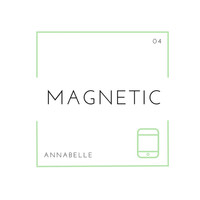 Annabelle sings straight from the heart on the propulsive pop of "Magnetic". The sound literally pops courtesy of the powerful percussion whose physicality feels outright inviting. Right at the center of the track is Annabelle's strong, confident voice. Her lyricism focuses upon finding one's peace and happiness. Layers merge forming a glorious whole as the way the many elements swirl together gives the track a regal sense of majesty. Over the course of the piece everything simply syncs up. Melodies have a glowing, neon-hued quality to them as they evolve with the utmost of grace. R&B, hip-hop, all nicely framed by a pop music core, allows the song to truly expand into the infinite. Volume is an absolute must for this is a sound both felt and heard.
Keyboards introduce the song. Ambient flourishes add to the overall mood as the vast cavernous space further emphasizes the joyous spirit. Upon the beat coming into the mix things truly begin. From there the entirety of the piece begins to truly come into bloom. Quite ornate the way of things lets the piece at times resemble a miniature symphony of sorts. Sung straight from the heart Annabelle lets the song gradually build up. By the very end, Annabelle allows for a great deal of happiness to enter the narrative presenting a truly lovely finale, one that feels akin to a gorgeous truth.
With "Magnetic" Annabelle chooses a glorious path, one that feels passionate and inspirational.
By Beach Sloth