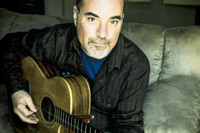 Kevin Fisher a multi-talented Multi-Platinum rock / country artist and pure genius or shall we say Guinness has pulled out all the stops and delivered a piece of musical perfection. He seems to have discovered the secret equation to a sure fire hit. One part music plus one part beer equals a whole lot of rolling on the floor until your gut busts fun.
FACEBOOK: https://www.facebook.com/BeerMeKF/
It's a refreshing mix of the love of beer and satire integrated in this fantastic tribute to his fervent adoration of the brew. The album "Beer Me" set to be released on October 14, 2017 by McJames Music Inc. was born out of a state of inebriation and indecision. He was sitting in between a quandary of what should he drink and what should he play. To the left of him was a box of wine and to the right of him was a twelve pack of beer. We were all lucky he made the right choice and he chose wisely, because we could have ended up with Chardonnay and yoga pants which could have ended up being a completely wrong active wear commercial and we just don't want that kind of heresy. Beer is so much better. Kevin Fisher originally a singer/songwriter out of Los-Angeles, California featured with a group of other musicians at 37 Records with McJames Music Inc. Producer Steve McClintock discovered him while he was in a band called Hank Zeppelin and before that was also with a folk/rock group Naked to the World. Although he works and plays everything in the studio himself which he is an absolutely brilliant writer/song writer he also made many connections with top touring players, including guitarists Brent Mason, (George Straight, Alan Jackson, Zac Brown Band, Blake Shelton) and John Jorgenson (Elton Jon, Bob Dylan, Johnny Cash) and keyboardist Buddy Hyatt (Collin Raye, Johnny Lee, The Bellamy Brothers).
Website: https://beerme.hearnow.com/
"Beer Me" the latest album from Kevin Fisher is a twelve pack of liquid fun. It's like Beer for the ears. Kevin Fisher's first song "Beer" Is a bit of classic honky-tonk rendition of a bad day gone wrong every one's reason for being in the bar that day only the one thing that makes things better is "Beer". "It's why we're all here." It flows seamlessly into the next song which is " Beer Me" classic country with a bit of rock influence. It really captures the classic bar atmosphere and makes you want to kick back relax and enjoy a cold crisp Beer with your best friends. Then it pours into "Dog Beers" the best explanation and excuse why anyone would get so inebriated, but even if you drank seven beers it would just be one in "Dog Beers". Then it takes you on a little trip with "I Wish You Were Beer", Starts off with a mariachi band like your off on vacation somewhere happy and blissful. It's like a love song that goes bad. They were in love until the honeymoon phase wore off and suddenly found themselves completely ignoring each other and thinking "I Wish You Were Beer". It's so true to reality sometimes it hurts, but really a great song. Then there is the song "Better Beer" A hope of wishful thinking that someday he can get rich so he can afford better Beer. "To Beer or Not to Beer" is like a beer philosophy. "I Like Beer" is a story of a divorced man that was talking to his therapist. Country with a little bit of classical guitar mixed in the man comes to the conclusion "Beer and me don't need you". That is followed by "Beer In the Fridge" but there is no Beer in the fridge so he went to get a six pack of his friends which is Beer but he is in complete denial that he has a problem. From there it goes to "Beerly Beloved" He wants to decide how many beers he should drink and spend time with the person he loves which he is a bit torn between the two of his greatest loves. "Beer Thirty" is a song about beer time. Time to crack a beer open and share one with friends it's a fun little Honky Tonk song. That leads to "Beer Blue Sky" which starts slow, but it's like a Beer love story. The final song "Last Call" It's the last call for alcohol, but he really wants to be with his somebody beautiful.
Really "Beer Me" is a fantastic album very well written and well-produced. Even though the theme is simple and light-hearted it's really an outstanding mix of country with a bit of rock influence mixed in. Really loved how he took such a simple theme, but then each song was able to tell a fantastic story and it invites you to experience it as it plays out. Every song tells a great story it's what I love about this album. My personal favorites were "Dog Beers" loved how he used such a fantastic excuse for being inebriated. "I Wish You Were Beer" It's like a love story gone wrong. Anyone that has been in a relationship for so long would definitely be able to empathize with that. "Beer Blue Sky" Love the introduction and how it's such a sweet love story of a memory. It just makes you want to float away with the song. this is such a wonderfully well put together album it was really a pleasure to review and he definitely made a new fan.
"Beer Me" has such a down to earth quality about it that makes it so easy for anyone to relate to that listens to it. From that one lost love to great stories of Beer. It's a fantastic mix of country with rock influences, but it's so easy to listen to you just want to kick back relax and crack open a Beer. If you want to experience more of Kevin Fischer's music you can find it on i-Tunes, Spotfy , Sound Cloud and other outlets.
Aura Stiers